Rapidly Rotating Records 78 RPM Show – 12 February 2012
Podcast: Play in new window | Download
Subscribe: Apple Podcasts | Android | Email | Google Podcasts | Stitcher | TuneIn | Spotify | RSS | More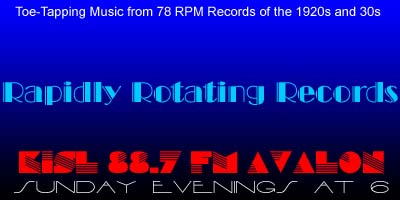 Welcome to Glenn Robison's Rapidly Rotating Records, bringing you vintage music to which you can't *not* tap your toes, from rapidly rotating 78 RPM records of the 1920s and '30s.
On this evening's show, we've got rapidly rotating records about eskimos, elevators, pheasants, weddings, honeymoons and even even-toed ungulates, eh…camels…yes, camels. We'll also celebrate some birthdays and listen to this past week in recording history.
Enjoy the show!
Here's the complete playlist:
Segment 1: Weddings
I'm very proud and happy that today is my 35th wedding anniversary. Now there aren't a lot of vintage songs about anniversaries, but there are plenty about weddings and marriage, so for my lovely wife Rita, for putting up with me for better than a third of a century, is a set of rapidly rotating records about weddings, beginning with the Rhythmic Eight.

What A Wonderful Wedding That Will Be – Rhythmic Eight / Maurice Elwin, v.
Wedding of the Birds – Paul's Novelty Orchestra / Frank Luther, v.
I'll Dance At Your Wedding – Fats Waller and His Rhythm / Fats Waller, v.
The Wedding In The Ark – Six Jumping Jacks / Tom Stacks, v.
Segment 2: Honeymoon
Now what usually follows a wedding is a honeymoon, so here's a set of rapidly rotating records about honeymoons

Sky High Honeymoon – Harry Roy AHO / Harry Roy, v.
Honeymoon Hotel – Leo Reisman AHO / Frank Luther, v.
Honeymoon Home – Art Hickman's Orchestra
Shanghai Moneymoon – Wisconsin Roof Orch. / Henry "Bubbles" Reber, v
Segment 3: Couldn't
We try to be upbeat and positive on this show, and have a "can-do" attitude, but here's a set of rapidly rotating records about some people who just couldn't do some things.

Bessie Couldn't Help It – Rube Bloom and His Bayou Boys / Roy Evans, v.
Charleston Chasers 2I Couldn't Help It – Billy Merrin and His Commanders / Billy Merrin, v.
I Couldn't Get To It (In Time) – Harold Ortli and His Ohio State Collegians / Clarence Buck, v.
I Couldn't If I Wanted To (Wouldn't If I Could) – Irving Mills and His Hotsy Totsy Gang / Irving Mills, v.
Segment 4: Elevators and Pheasants
Elevators and Pheasants?! Well, sometimes I'll have what sounds like an interesting topic, and just not be able to find enough records to make a whole segment out of it. That happened a couple of times this week, so for this segment, I've combined two topics.

If You Believe In Me – Austin Wylie's Golden Pheasant Orchestra
Call Of The South – Walt Anderson and His Golden Pheasant Hoodlums / Charles Forsyth & James Kelley, v.
Dan The Elevator Man – Six Jumping Jacks / Tom Stacks, v.
Elevator Papa, Switchboard Mama – Butterbeans and Susie
Listen to part 2 of the Rapidly Rotating Records 78 RPM Show – 12 February 2012
THANKS FOR LISTENING!
If you enjoy the show, please let us know by leaving a comment on the website or the Facebook page or sending an email to Glenn@RapidlyRotatingRecords.com And remember, your requests and topic segments are always welcome.

RRR is also available as a podcast on iTunes, Spotify, Stitcher, TuneIn and Google Play Music. Simply enter Rapidly Rotating Records in the search box in any of those apps and a link to the show will appear. If you listen to the podcast, please subscribe and leave a rating and comment. THANK YOU!

We are proud and happy that Rapidly Rotating Records is also part of Global Community Radio, supplying campus and community radio stations worldwide with hosted music and spoken word programming from sources including public broadcasters, other community radio stations, and independent producers from around the globe.

The Rapidly Rotating Records telephone request line is now OPEN! In addition to sending cards or letters, sending email, or posting to the the show's website or Facebook page, you can now call in to request a particular artist, song or topic segment, leave feedback about the show, or ask questions or comment about the music. Of course, I'd be happy if you just call in to say "Hi!" and let me know you're out there listening. The easy-to-remember number is 234-PLAY 78s or 234-752-9787.

If you're a member of Facebook, but haven't "liked" the show, won't you please consider doing so? Just go to http://www.facebook.com/rapidlyrotatingrecords

And finally, please consider becoming a member of KISL. A basic membership is just $20 and a premium membership is $50. While most of you are not on Catalina Island and can't take advantage of the merchant discounts and offers that go with membership, you'll be supporting community radio on Catalina Island and beyond. I am not paid for the show, nor is it underwritten. I do the show because I love the music and the people, stories and culture behind it. Visit http://www.kislavalon.com/membership. Thanks!