Rapidly Rotating Records 78 RPM Show – 12 February 2012 (part 2)
Podcast: Play in new window | Download
Subscribe: Apple Podcasts | Android | Email | Google Podcasts | Stitcher | TuneIn | Spotify | RSS | More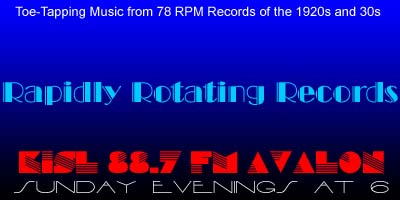 Welcome to Glenn Robison's Rapidly Rotating Records, bringing you vintage music to which you can't *not* tap your toes, from rapidly rotating 78 RPM records of the 1920s and '30s.
Summary of this week's show.
Enjoy the show!
Here's the complete playlist:
Segment 5: Eskimos
This next segment is all about Eskimos and was brought about because I happened upon the record that starts it off and just had to share it.

*Humoreskimo – Cliquot Club Eskimos / Tom Stacks, v.
Eskimo Rag – Billy Murray
The Eskimo Song – Charles Fulcher AHO
Don't Be Like An Eskimo – Joe Haymes AHO / Cliff Wetterau, v.
Segment 6: Camels
As I was browsing through records for this show, I happened upon one about camels. So, this next segment is all about camels. And while you're listening, see if you can remember which species of camel has one hump and which has two.

Ali Baba's Camel – The Rhythmic Troubadors Dir. Stan Greening / Fred Douglas, v.
*Kamel land – Merry Melody Men – Vocalions 3 Bud Taylor
*The Cam el Walk – Ted Lewis and His Band
*The Black Camel Of Death – The Rev. J. M. Milton
Segment 7: Birthdays
A number of artists had birthdays this past week, and we're going to celebrate a few of them.
Irving Aaronson (here with His Crusaders, before they were the Commanders) was born February 7, 1896. James Hubert Blake was born February 7, 1897 was much more than just a ragtime pianist, he was also a composer (although he didn't write this one). Born on exactly the same day as Irving Aaronson on February 7, 1896, was bandleader, songwriter and pianist Earl Burtnett. James Francis Durante was born February 10, 1893 and before he became a comedian and actor was a full time ragtime pianist billed as Ragtime Jimmy. He wrote Why Cry Blues with Jimmy Durante.

*Don't Wake Me Up, Let Me Dream – Irving Aaronson and His Crusaders / Frank Cornwell, v.
Thumpin' And Bumpin' – Eubie Black AHO / Dick Robertson, v.
*Doin' The Boom Boom – Earl Burtnett ah la biltmore hotel orch / unidentified vocal quartet, v.
*Why Cry Blues – Jimmy Durante's Jazz Band
Segment 8: This Week In Recording History
We haven't done this in a while. It's time now for "this week in recording history. So called because it's here where we play rapidly rotating records celebrating birthdays, having been recorded this past week in years past.

Hot Tamale Molly – The Goofus Five / Earl Rickard, v.
Don't Advertise Your Man – Rose Henderson
I'll Get By As Long As I Have You – Ruth Etting
Southbound – Alex Hill AHO
Segment 9:

*Chirp Chirp – Fred Rich and His Hotel Astor Orchestra
Teddy Bear Blues – The Virginians
Listen to part 1 of the Rapidly Rotating Records 78 RPM Show – 12 February 2012

THANKS FOR LISTENING!
If you enjoy the show, please let us know by leaving a comment on the website or the Facebook page or sending an email to Glenn@RapidlyRotatingRecords.com And remember, your requests and topic segments are always welcome.

RRR is also available as a podcast on iTunes, Spotify, Stitcher, TuneIn and Google Play Music. Simply enter Rapidly Rotating Records in the search box in any of those apps and a link to the show will appear. If you listen to the podcast, please subscribe and leave a rating and comment. THANK YOU!

We are proud and happy that Rapidly Rotating Records is also part of Global Community Radio, supplying campus and community radio stations worldwide with hosted music and spoken word programming from sources including public broadcasters, other community radio stations, and independent producers from around the globe.

The Rapidly Rotating Records telephone request line is now OPEN! In addition to sending cards or letters, sending email, or posting to the the show's website or Facebook page, you can now call in to request a particular artist, song or topic segment, leave feedback about the show, or ask questions or comment about the music. Of course, I'd be happy if you just call in to say "Hi!" and let me know you're out there listening. The easy-to-remember number is 234-PLAY 78s or 234-752-9787.

If you're a member of Facebook, but haven't "liked" the show, won't you please consider doing so? Just go to http://www.facebook.com/rapidlyrotatingrecords

And finally, please consider becoming a member of KISL. A basic membership is just $20 and a premium membership is $50. While most of you are not on Catalina Island and can't take advantage of the merchant discounts and offers that go with membership, you'll be supporting community radio on Catalina Island and beyond. I am not paid for the show, nor is it underwritten. I do the show because I love the music and the people, stories and culture behind it. Visit http://www.kislavalon.com/membership. Thanks!