Rapidly Rotating Records 78 RPM Show – 29 January 2012
Podcast: Play in new window | Download
Subscribe: Apple Podcasts | Android | Email | Google Podcasts | Stitcher | TuneIn | Spotify | RSS | More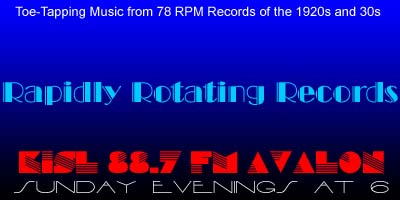 Welcome to Glenn Robison's Rapidly Rotating Records, bringing you vintage music to which you can't *not* tap your toes, from rapidly rotating 78 RPM records of the 1920s and '30s.
On this evening's show we're going to leave it, we'll be reminded of some things, we'll find out what Jack Jackson and some others like, we'll get Krazy, with a K, and hear from some rascals.
Enjoy the show!
Here's the complete playlist:
Segment 1: Leave It
On last week's show we had some songs about leaving, as in physically moving from one place to another. There are lots of different meanings of the verb to leave, and this week we have some rapidly rotating records about leaving in a different sense.

Leave it that way – The High Hatters / Frank Luther, v.
Gems from "Leave it to Jane" – Victor Light Opera Company matrix
Leave It To Love – Carroll Gibbons and The Savoy Hotel Orpheans / Brian Lawrance, v.
Segment 2: Reminder

She Reminds Me Of You – Dorsey Bros. Orchestra / Don Matteson, v.
I'll Be Reminded Of You – Rudy Vallee and His Connecticut Yankees / Rudy Vallee, v.
The Moonlight Reminds Me Of You – Golden Gate Orch / Irving Kaufman, v.
Roses Remind Me Of You – Johnny Hamp's Kentucky Serenaders / Franklyn Baur, v.
Segment 3: I Like It

I Like To Go Back In The Evening – Jack Jackson AHO / Fred Latham +2, v.
As I Like It – Bennie Moten's KCO
I'm Gonna Do It If I Like It – Marion Harris

Segment 4: Krazy
Listener Will is on a quest to secure a copy of the sheet music to the Krazy Kat Rag, and asked if there is a recording of it. If there is one, I couldn't find it, but I do have a couple of versions of "Krazy Kat".

Krazy Kat – Frank Trumbauer AHO
Krazy Kapers – Benny Carter
Krazy Kat – Sam Wooding Y Sus Chocolate Kiddies

Segment 5: Rascals

Rhapsody In Blue (Novelty Abridgement) – Borah Minnevich and His Harmonica Rascals
Rukus Juice Shuffle – Alabama Rascals
Wah Hoo! – The Rhythm Rascals

THANKS FOR LISTENING!
If you enjoy the show, please let us know by leaving a comment on the website or the Facebook page or sending an email to Glenn@RapidlyRotatingRecords.com And remember, your requests and topic segments are always welcome.

RRR is also available as a podcast on iTunes, Spotify, Stitcher, TuneIn and Google Play Music. Simply enter Rapidly Rotating Records in the search box in any of those apps and a link to the show will appear. If you listen to the podcast, please subscribe and leave a rating and comment. THANK YOU!

We are proud and happy that Rapidly Rotating Records is also part of Global Community Radio, supplying campus and community radio stations worldwide with hosted music and spoken word programming from sources including public broadcasters, other community radio stations, and independent producers from around the globe.

The Rapidly Rotating Records telephone request line is now OPEN! In addition to sending cards or letters, sending email, or posting to the the show's website or Facebook page, you can now call in to request a particular artist, song or topic segment, leave feedback about the show, or ask questions or comment about the music. Of course, I'd be happy if you just call in to say "Hi!" and let me know you're out there listening. The easy-to-remember number is 234-PLAY 78s or 234-752-9787.

If you're a member of Facebook, but haven't "liked" the show, won't you please consider doing so? Just go to http://www.facebook.com/rapidlyrotatingrecords

And finally, please consider becoming a member of KISL. A basic membership is just $20 and a premium membership is $50. While most of you are not on Catalina Island and can't take advantage of the merchant discounts and offers that go with membership, you'll be supporting community radio on Catalina Island and beyond. I am not paid for the show, nor is it underwritten. I do the show because I love the music and the people, stories and culture behind it. Visit http://www.kislavalon.com/membership. Thanks!