Rapidly Rotating Records 78 RPM Show – 15 January 2012
Podcast: Play in new window | Download
Subscribe: Apple Podcasts | Android | Email | Google Podcasts | Stitcher | TuneIn | Spotify | RSS | More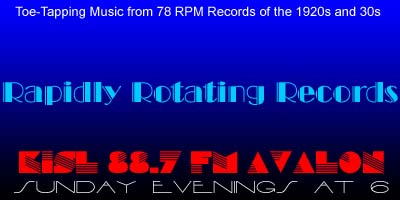 Welcome to Glenn Robison's Rapidly Rotating Records, bringing you vintage music to which you can't *not* tap your toes, from rapidly rotating 78 RPM records of the 1920s and '30s.
On this evening's show we'll celebrate the birthdays of Harry Roy and Arthur Johnston, have an interlude, play some cardiac songs, and some songs about ducks (as an added bonus, you'll learn what a grinnel is too).
Enjoy the show!
Here's the complete playlist:
Segment 1: Harry Roy
January 12 marked the birth in 1900 in London, England of Harry Lipman. You may know him better as bandleader Harry Roy. In the early 50's Harry disbanded and was running his own restaurant, but at age 69, led a quartet in London's Lyric Theaters show "Oh, Clarence". He died in London on February 1, 1971.

How Could Red Riding Hood – Southern State Dance Band
Crazy People – Harry Roy and His R. K. Olians / Bill Currie, v.
I'm Silly, I'm Daffy, It's No Use, I'm In Love – Harry Roy and His Café Anglais Orchestra / Harry Roy, Bill Currie and Ivor Morton, v.
Segment 2: Hearts

Tomorrow is the third anniversary of my little cardiac bypass procedure, but this segment of heart songs is dedicated to KISL's own Steve-o, who along with Rambo, hosts Radio Free Catalina.
Take My Heart – Dick McDonough AHO / Chick Bullock, v.
Your Heart and Mine – Roy Fox and his orch / Denny Dennis, v.
My Heart – Louis Armstrong and His Hot Five

Segment 3: Interludes

Strange Interlude – Harold White AHO / Will Osborne
Blue Interlude – Chocolate Dandies
Riff Interlude – Count Basie AHO

Segment 4: Ducks
You were promised the meaning of 'grinnel' (the context will make sense in a moment). In the Missouri Arkansas boot-heel area a "trash fish" is called grinnel, also known as bowfin, mudfish or dogfish. In the spring, the locals would catch grinnel in backwater ponds by spearing them with a three-pronged fork, a practice known as gigging. Band members of a certain band, most of whom were cotton farmers and fishermen, actually had done gigging.
Duck Shoes Rag – Grinnel Giggers
The Duck's Quack (A Barnyard Jazzboree) / Gilbert Girard, Animal Imitations – Kaplan's Melodists
Huckleberry Duck – Raymond Scott and His New Orchestra

Segment 5: Arthur Johnston
Last week, January 10 marked the birth in 1898 in New York City of composer Arthur Johnston. He began his career as a movie theater pianist and later as a pianist and musical director for Irving Berlin's stage productions. He moved to Hollywood in 1929 and wrote the scores for films such as College Humor, Too Much Harmony, Hello Everybody, Murder At The Vanities, Thanks A Million, Pennies From Heaven and Double Or Nothing. His most notable collaborators were Sam Coslow, Gus Kahn and Johnny Burke. Arthur Johnston died in Corona del Mar, California on May 1, 1954.

Buckin' The Wind – Anson Weeks AHO / Carl Ravazza, v.
Thanks – Leo Reisman AHO / Frank Luther, v.
The Spell Of The Blues – Dorsey Brothers and Their Orchestra / Bing Crosby, v.
Just One More Chance – Gus Arnheim and His Coconut Grove Orchestra / Donald Novis, v.

THANKS FOR LISTENING!
If you enjoy the show, please let us know by leaving a comment on the website or the Facebook page or sending an email to Glenn@RapidlyRotatingRecords.com And remember, your requests and topic segments are always welcome.

RRR is also available as a podcast on iTunes, Spotify, Stitcher, TuneIn and Google Play Music. Simply enter Rapidly Rotating Records in the search box in any of those apps and a link to the show will appear. If you listen to the podcast, please subscribe and leave a rating and comment. THANK YOU!

We are proud and happy that Rapidly Rotating Records is also part of Global Community Radio, supplying campus and community radio stations worldwide with hosted music and spoken word programming from sources including public broadcasters, other community radio stations, and independent producers from around the globe.

The Rapidly Rotating Records telephone request line is now OPEN! In addition to sending cards or letters, sending email, or posting to the the show's website or Facebook page, you can now call in to request a particular artist, song or topic segment, leave feedback about the show, or ask questions or comment about the music. Of course, I'd be happy if you just call in to say "Hi!" and let me know you're out there listening. The easy-to-remember number is 234-PLAY 78s or 234-752-9787.

If you're a member of Facebook, but haven't "liked" the show, won't you please consider doing so? Just go to http://www.facebook.com/rapidlyrotatingrecords

And finally, please consider becoming a member of KISL. A basic membership is just $20 and a premium membership is $50. While most of you are not on Catalina Island and can't take advantage of the merchant discounts and offers that go with membership, you'll be supporting community radio on Catalina Island and beyond. I am not paid for the show, nor is it underwritten. I do the show because I love the music and the people, stories and culture behind it. Visit http://www.kislavalon.com/membership. Thanks!