Rapidly Rotating Records 78 RPM Show – 11 December 2011
Podcast: Play in new window | Download
Subscribe: Apple Podcasts | Android | Email | Google Podcasts | Stitcher | TuneIn | Spotify | RSS | More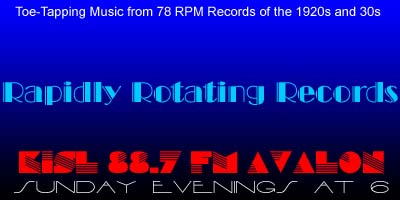 Welcome to Glenn Robison's Rapidly Rotating Records, bringing you vintage music to which you can't *not* tap your toes, from rapidly rotating 78 RPM records of the 1920s and '30s.
On this evening's show we'll celebrate Mississippi's birthday, as well as that of Harold Adamson, have some cherries, and listen to this past week in recording history.
Enjoy the show!
Here's the complete playlist:
Segment 1: Cherries

Cherry – McKinney's Cotton Pickers / Jean Napier, v.
Cherry Red – Pete Johnson and His Boogie Woogie Boys / Joe Turner, v.
Cherry Cherokee – Art Hickman's Orchestra
Cheerio, Cherry Lips, Cheerio – Wallace Gordon (Scrappy Lambert)
T
Segment 2: Mississippi

Mississippi Basin – Clarence Williams AHO / Eva Taylor, Clarence Williams, Clarence Todd, v.
Mississippi, Here I Am – Ray Miller AHO / Dick Teela
Shanty Boat On The Mississippi – Louis Armstrong AHO
Mississippi Melody – Jack Hylton AHO / Hylton, Rignold and d'Amato, v.

Segment 3: Harold Adamson
December 10, marked the birth in 1906 in Greenville, New Jersey of lyricist Harold Adamson and spend much of his career writing for movies, both musical and non-musical. He died in Beverly Hills on August 17, 1980.
Everything's Been Done Before – Richard Himber and His Ritz-Carlton Orchestra / Joey Nash, v.
You Never Looked So Beautiful Before – Stew Pletcher AHO / Stew Pletcher, v
Time On My Hands – Ray Noble and The New Mayfair Dance Orchestra / Al Bowlly, v.
Look Who's Here – Ben Bernie AHO / Jackie Heller, v.
Segment 4: This Week In Recording History

Crosby, Columbo and Vallee – Dick Robertson, v.
Jig Walk – Ipana Troubadors
Oh, Mabel – Ben Selvin AHO
I Still Believe In You – Fred Rich and His Hotel Astor Orchestra / Sammy Fain and Artie Dunn, v.

THANKS FOR LISTENING!
If you enjoy the show, please let us know by leaving a comment on the website or the Facebook page or sending an email to Glenn@RapidlyRotatingRecords.com And remember, your requests and topic segments are always welcome.

RRR is also available as a podcast on iTunes, Spotify, Stitcher, TuneIn and Google Play Music. Simply enter Rapidly Rotating Records in the search box in any of those apps and a link to the show will appear. If you listen to the podcast, please subscribe and leave a rating and comment. THANK YOU!

We are proud and happy that Rapidly Rotating Records is also part of Global Community Radio, supplying campus and community radio stations worldwide with hosted music and spoken word programming from sources including public broadcasters, other community radio stations, and independent producers from around the globe.

The Rapidly Rotating Records telephone request line is now OPEN! In addition to sending cards or letters, sending email, or posting to the the show's website or Facebook page, you can now call in to request a particular artist, song or topic segment, leave feedback about the show, or ask questions or comment about the music. Of course, I'd be happy if you just call in to say "Hi!" and let me know you're out there listening. The easy-to-remember number is 234-PLAY 78s or 234-752-9787.

If you're a member of Facebook, but haven't "liked" the show, won't you please consider doing so? Just go to http://www.facebook.com/rapidlyrotatingrecords

And finally, please consider becoming a member of KISL. A basic membership is just $20 and a premium membership is $50. While most of you are not on Catalina Island and can't take advantage of the merchant discounts and offers that go with membership, you'll be supporting community radio on Catalina Island and beyond. I am not paid for the show, nor is it underwritten. I do the show because I love the music and the people, stories and culture behind it. Visit http://www.kislavalon.com/membership. Thanks!