Rapidly Rotating Records 78 RPM Show – 6 November 2011
Podcast: Play in new window | Download
Subscribe: Apple Podcasts | Android | Email | Google Podcasts | Stitcher | TuneIn | Spotify | RSS | More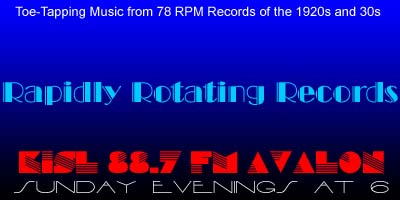 Welcome to Glenn Robison's Rapidly Rotating Records, bringing you vintage music to which you can't *not* tap your toes, from rapidly rotating 78 RPM records of the 1920s and '30s.
On this evening's all birthday show, we'll celebrate the birthdays of Jean Schwartz, Gus Kahn, Ethel Waters, Harry M. Woods and Jan Garber. Between them are stories of triumph, overcoming adversity and decades of amazing music.
Enjoy the show!
Here's the complete playlist:
Segment 1: Jean Schwartz
Born on 4th November 1878 in Budapest, Hungary was pianist and composer Jean Schwartz

Chinatown, My Chinatown – Georgia Washboard Stompers / Jake Fenderson, v.
Lovable Eyes – Club Royal Orchestra (Clyde Doerr)
Au Revoir, Pleasant Dreams – The Rhythmic Troubadours (Stan Greening) / Tom Barratt, v.

Segment 2: Harry M. Woods
Composer, lyricist and pianist Harry McGregor Woods was born 4 November 1896 in North Chelmsford, Massachusetts

No One Knows What Its All About – The Varsity Eight
Try A Little Tenderness – Ted Lewis and His Band
I'm Riding To Glory – The Piccadilly Players
When Polly Walks Through The Hollyhocks – Ben Bernie and His Hotel Roosevelt Orch/ Scrappy Lambert & Billy Hillpot, v.

Segment 3: Jan Garber
Born in 1894, on November 5 was bandleader and violinist Jan Garber.

Guess Who – Jan Garber AHO / Unidentified, v.
Odds And Ends – Jan Garber AHO / Lee Bennett, v.
Seminola – Jan Garber AHO

Segment 4: Gus Kahn
Lyricist Gus Kahn was born Gustav Gerson Kahn in Coblenz, Germany on November 6th 1886.

My Baby Just Cares For Me – Isham Jones' Orch
Let's Talk About My Sweetie – Abe Lyman's California Orchestra / Charles Kaley, v.
She's Wonderful – Harry Shalson
Segment 5: Ethel Waters
Happy birthday to Ethel Waters, born in Chester, Pennsylvania on 31 October 1896.

The New York Glide – Ethel Waters
Go Back Where You Stayed Last Night – Ethel Waters
I Like The Way He Does It – Ethel Waters

THANKS FOR LISTENING!
If you enjoy the show, please let us know by leaving a comment on the website or the Facebook page or sending an email to Glenn@RapidlyRotatingRecords.com And remember, your requests and topic segments are always welcome.

RRR is also available as a podcast on iTunes, Spotify, Stitcher, TuneIn and Google Play Music. Simply enter Rapidly Rotating Records in the search box in any of those apps and a link to the show will appear. If you listen to the podcast, please subscribe and leave a rating and comment. THANK YOU!

We are proud and happy that Rapidly Rotating Records is also part of Global Community Radio, supplying campus and community radio stations worldwide with hosted music and spoken word programming from sources including public broadcasters, other community radio stations, and independent producers from around the globe.

The Rapidly Rotating Records telephone request line is now OPEN! In addition to sending cards or letters, sending email, or posting to the the show's website or Facebook page, you can now call in to request a particular artist, song or topic segment, leave feedback about the show, or ask questions or comment about the music. Of course, I'd be happy if you just call in to say "Hi!" and let me know you're out there listening. The easy-to-remember number is 234-PLAY 78s or 234-752-9787.

If you're a member of Facebook, but haven't "liked" the show, won't you please consider doing so? Just go to http://www.facebook.com/rapidlyrotatingrecords

And finally, please consider becoming a member of KISL. A basic membership is just $20 and a premium membership is $50. While most of you are not on Catalina Island and can't take advantage of the merchant discounts and offers that go with membership, you'll be supporting community radio on Catalina Island and beyond. I am not paid for the show, nor is it underwritten. I do the show because I love the music and the people, stories and culture behind it. Visit http://www.kislavalon.com/membership. Thanks!