Rapidly Rotating Records 78 RPM Show – 2 October 2011
Podcast: Play in new window | Download
Subscribe: Apple Podcasts | Android | Email | Google Podcasts | Stitcher | TuneIn | Spotify | RSS | More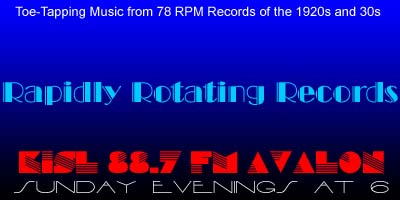 Welcome to Glenn Robison's Rapidly Rotating Records, bringing you vintage music to which you can't *not* tap your toes, from rapidly rotating 78 RPM records of the 1920s and '30s.
On this evening's show, we'll have some darling songs, some songs about kitties, some songs about twilight and celebrate some birthdays.
Enjoy the show!
Here's the complete playlist:
Segment 1: Darling
Thanks to Richard from Illinois for the inspiration behind this segment.

Darling, Not Without You – Ted Weems AHO / Perry Como, v.
Darling, I'm Longing To Greet You – Debroy Somers Band / Quartet, v.
Call Me Darling – Wallace Trio
Oh, How I Love My Darling – The Ambassadors / Irving Kaufman, v.

Segment 2: Cats

The Cat – Harry Reser's Syncopators
Tom Cat – King Oliver (Cornet Solo) Acc. Jelly Roll Morton
Teasing The Cat – Fred Van Eps Trio
Cat's Kittens – Willie Creager AHO / Arthur Fields, v.

Segment 3: Twilight

Twilight Dreams – Eddie Wittstein AHO / Unidentified Male Group, v.
Twilight – Carl Fenton AHO
Twilight Rose – The Columbians / Johnny Marvin
In The Hush Of The Twilight – Tony Young's Ramblers / Eddie Grossbart,v.

Segment 4: Happy Birthday
Celebrating a lot of birthdays this week!
September
26, 1894 Vaughn DeLeath
26, 1889 Frank Crumit
26, 1898 George Gershwin
26, 1901 Ted Weems
27, 1898 Vincent Youmans
28, 1897 Frank Banta
30, 1902 Thelma Terry (Thelma Combes)
October
1, 1893 Cliff Friend
1, 1904 Terry Shand

Leave It That Way – The High Hatters / Frank Luther, v.
Bottoms Up – Ben Bernie AHO / Dick Robertson, v.
Tea For Two – Green Brothers Novelty Band
I Can't Realize – Ben Selvin AHO
You Comin' Up Tonight Huh? – Jean Goldkette AHO / Herald Stokes, Greta Woodson, Gertrude Matthews, Lucile Matthews (as Wynken, Blinken and Nod, v.) Jean Goldkette Bands
THANKS FOR LISTENING!
If you enjoy the show, please let us know by leaving a comment on the website or the Facebook page or sending an email to Glenn@RapidlyRotatingRecords.com And remember, your requests and topic segments are always welcome.

RRR is also available as a podcast on iTunes, Spotify, Stitcher, TuneIn and Google Play Music. Simply enter Rapidly Rotating Records in the search box in any of those apps and a link to the show will appear. If you listen to the podcast, please subscribe and leave a rating and comment. THANK YOU!

We are proud and happy that Rapidly Rotating Records is also part of Global Community Radio, supplying campus and community radio stations worldwide with hosted music and spoken word programming from sources including public broadcasters, other community radio stations, and independent producers from around the globe.

The Rapidly Rotating Records telephone request line is now OPEN! In addition to sending cards or letters, sending email, or posting to the the show's website or Facebook page, you can now call in to request a particular artist, song or topic segment, leave feedback about the show, or ask questions or comment about the music. Of course, I'd be happy if you just call in to say "Hi!" and let me know you're out there listening. The easy-to-remember number is 234-PLAY 78s or 234-752-9787.

If you're a member of Facebook, but haven't "liked" the show, won't you please consider doing so? Just go to http://www.facebook.com/rapidlyrotatingrecords

And finally, please consider becoming a member of KISL. A basic membership is just $20 and a premium membership is $50. While most of you are not on Catalina Island and can't take advantage of the merchant discounts and offers that go with membership, you'll be supporting community radio on Catalina Island and beyond. I am not paid for the show, nor is it underwritten. I do the show because I love the music and the people, stories and culture behind it. Visit http://www.kislavalon.com/membership. Thanks!