Rapidly Rotating Records 78 RPM Show -25 September 2011
Podcast: Play in new window | Download
Subscribe: Apple Podcasts | Android | Email | Google Podcasts | Stitcher | TuneIn | Spotify | RSS | More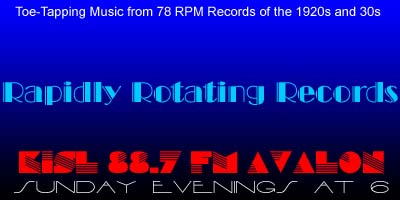 Welcome to Glenn Robison's Rapidly Rotating Records, bringing you vintage music to which you can't *not* tap your toes, from rapidly rotating 78 RPM records of the 1920s and '30s.
On this evening's show, we'll listen to some songs of long ago, which is actually something we do pretty much every week on this show, mention some things you can give me, we'll have an empty set, and celebrate the birthdays of Dave Dreyer and others.
Enjoy the show!
Here's the complete playlist:
Segment 1: Long Ago

Songs Of Long Ago – Cliquot Club Eskimos
Not So Long Ago – The Happy Six
Little Locket Of Long Ago – Ted Lewis and His Band / Ted Lewis, v.
'Twas Not So Long Ago – Nat Shilkret and the Victor Orchestra / Frank Munn, v.

Segment 2: Gimme, gimme, gimme

Give Me Your Telephone Number – J. C. Higgenbotham and His Six Hicks
Give Me Some More – Celestin's Original Tuxedo Jazz Orchestra
Give Me Today – The California Ramblers / Arthur Hall, v.

Segment 3: Empty Days

Empty Days – Jan Garber AHO / Lee Bennett, v.
Empty Saddles – Russ Morgan Orchestra / Unidentified, v.
Everything Is Rhythm – Charlie Kunz and the Casani Club Orchestra

Segment 4: Birthdays
A big week for birthdays this week! Including composers Tolchard Evans, born 20 September 1901 in London and Al Hoffman born 25 December 1902 , as well as vocalist Poley McClintock born 24 September 1900.

I've Got Some Lovin' To Do – Waring's Pennsylvanians / Poley McClintock, v.
I Don't Mind Walking In The Rain – Bix Beiderbecke AHO (Al Hoffman)
A Red-Roofed Chalet – Debroy Somers and His Band (Tolchard Evans)

Segment 5: Happy Birthday Dave Dreyer

Born in Brooklyn, New York on September 22 1894 was songwriter Dave Dreyer.
I Want To Be Known As Susie's Feller – Isham Jones AHO / Tom Stacks, v.
Me And My Shadow – The Rangers / Unidentified, v.
I'm Ka-razy For You – Horace Heidt's Orchestra / Warren Lewis, Jerry Browne, Harold Moore

THANKS FOR LISTENING!
If you enjoy the show, please let us know by leaving a comment on the website or the Facebook page or sending an email to Glenn@RapidlyRotatingRecords.com And remember, your requests and topic segments are always welcome.

RRR is also available as a podcast on iTunes, Spotify, Stitcher, TuneIn and Google Play Music. Simply enter Rapidly Rotating Records in the search box in any of those apps and a link to the show will appear. If you listen to the podcast, please subscribe and leave a rating and comment. THANK YOU!

We are proud and happy that Rapidly Rotating Records is also part of Global Community Radio, supplying campus and community radio stations worldwide with hosted music and spoken word programming from sources including public broadcasters, other community radio stations, and independent producers from around the globe.

The Rapidly Rotating Records telephone request line is now OPEN! In addition to sending cards or letters, sending email, or posting to the the show's website or Facebook page, you can now call in to request a particular artist, song or topic segment, leave feedback about the show, or ask questions or comment about the music. Of course, I'd be happy if you just call in to say "Hi!" and let me know you're out there listening. The easy-to-remember number is 234-PLAY 78s or 234-752-9787.

If you're a member of Facebook, but haven't "liked" the show, won't you please consider doing so? Just go to http://www.facebook.com/rapidlyrotatingrecords

And finally, please consider becoming a member of KISL. A basic membership is just $20 and a premium membership is $50. While most of you are not on Catalina Island and can't take advantage of the merchant discounts and offers that go with membership, you'll be supporting community radio on Catalina Island and beyond. I am not paid for the show, nor is it underwritten. I do the show because I love the music and the people, stories and culture behind it. Visit http://www.kislavalon.com/membership. Thanks!