Rapidly Rotating Records 78 RPM Show – 11 September 2011
Podcast: Play in new window | Download
Subscribe: Apple Podcasts | Android | Email | Google Podcasts | Stitcher | TuneIn | Spotify | RSS | More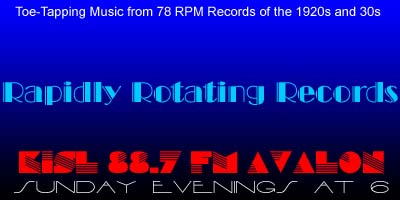 Welcome to Glenn Robison's Rapidly Rotating Records, bringing you vintage music to which you can't *not* tap your toes, from rapidly rotating 78 RPM records of the 1920s and '30s.
On this evening's show, we'll celebrate the birthdays of Howard Dietz, Arthur Freed, and the State of California, and fulfill a request. So, why not stay a while and linger a while.
Enjoy the show!
Here's the complete playlist:
Segment 1: (Linger) a while

Linger Awhile – Sam Lanin's Orchestra
Once In A While – Louis Armstrong and His Hot Seven
After A While – Benny Goodman's Boys
Stay Awhile – Arthur Tracy

Segment 2: You're The One

You're The One For Me – Freddie Rose
You're The One I Care For – Ruth Etting
You're The One That I Adore – Lou Gold Orch / Irving Kaufman, v.

Segment 3: California
Commemorating California's admission to the union in September 1850.

California Swing – Paul Howard's Quality Serenaders / Lionel Hampton, v.
Beautiful California – Irwin Abrams / Arthur Singer, v.
California Blues – Abe Lyman's Ambassador Hotel Orchestra

Segment 4: Topic
Arthur Grossman was born 9 September 1894 in Charleston, South Carolina – but he's better known as singer, writer, pianist and lyricist Arthur Freed and was part of a songwriting duo with Nacio Herb Brown.

You Were Meant For Me – The Broadway Nitelites (Ben Selvin) / Dick Robertson, v.
I'm Danicing On A Rainbow – Don Bestor AHO / Maurice Cross, v.
Should I? – Hotel PA Orch / Scrappy Lambert, v.

Segment 5: Howard Dietz
Although he had a successful 30 year career in advertising, at the same time lyricist Howard Dietz, born in New York City on 6 September 1896, was writing hit Broadway shows, and collaborating with Arthur Schwartz.

Got A Bran' New Suit – Fats Waller and His Rhythm / Fats Waller
Dancing In The Dark – Fred Waring ah Pennsylvanians / The Three Girl Friends, v.
I'll Always Remember – Ray Starita and His Ambassadors Band / Lou Abelardo, v.

THANKS FOR LISTENING!
If you enjoy the show, please let us know by leaving a comment on the website or the Facebook page or sending an email to Glenn@RapidlyRotatingRecords.com And remember, your requests and topic segments are always welcome.

RRR is also available as a podcast on iTunes, Spotify, Stitcher, TuneIn and Google Play Music. Simply enter Rapidly Rotating Records in the search box in any of those apps and a link to the show will appear. If you listen to the podcast, please subscribe and leave a rating and comment. THANK YOU!

We are proud and happy that Rapidly Rotating Records is also part of Global Community Radio, supplying campus and community radio stations worldwide with hosted music and spoken word programming from sources including public broadcasters, other community radio stations, and independent producers from around the globe.

The Rapidly Rotating Records telephone request line is now OPEN! In addition to sending cards or letters, sending email, or posting to the the show's website or Facebook page, you can now call in to request a particular artist, song or topic segment, leave feedback about the show, or ask questions or comment about the music. Of course, I'd be happy if you just call in to say "Hi!" and let me know you're out there listening. The easy-to-remember number is 234-PLAY 78s or 234-752-9787.

If you're a member of Facebook, but haven't "liked" the show, won't you please consider doing so? Just go to http://www.facebook.com/rapidlyrotatingrecords

And finally, please consider becoming a member of KISL. A basic membership is just $20 and a premium membership is $50. While most of you are not on Catalina Island and can't take advantage of the merchant discounts and offers that go with membership, you'll be supporting community radio on Catalina Island and beyond. I am not paid for the show, nor is it underwritten. I do the show because I love the music and the people, stories and culture behind it. Visit http://www.kislavalon.com/membership. Thanks!