Rapidly Rotating Records 78 RPM Show – 21 August 2011
Podcast: Play in new window | Download
Subscribe: Apple Podcasts | Android | Email | Google Podcasts | Stitcher | TuneIn | Spotify | RSS | More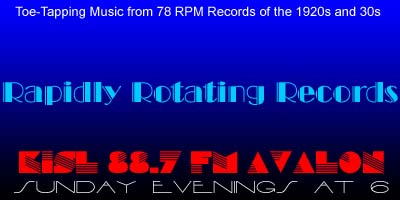 Welcome to Glenn Robison's Rapidly Rotating Records, bringing you vintage music to which you can't *not* tap your toes, from rapidly rotating 78 RPM records of the 1920s and '30s.
On this evening's show we'll celebrate National Radio Day and the birthdays of a number of different artists and composers.
Enjoy the show!
Here's the complete playlist:
Segment 1: August 15…Happy Birthday
Composers born on August 15 include:
Sidney Clare born in 1892
Composer Harry Akst was born in 1894
Ted Snyder was born 1881
Lyricist Ned Washington was born August 15, 1901

A New Kind Of Man – The Varsity Eight (Sidney Clare)
Here Comes Malinda – The Little Ramblers (Harry Akst)
You Gave Me Your Heart (So I Have You Mine) – The Happy Six (Ted Snyder)
Sweetheart Hour – Don Bestor AOH / Neil Buckley, v. (Ned Washington)

Segment 2: Happy National Radio Day
National Radio Day celebrates the invention the radio as a device and of radio as a medium.

Turn On Your Radio (And Listen In On Your Home Town) – Ben Selvin and His Moulin Rouge Orchestra / Irving Kaufman, v.
Man With New Radio – Alec Templeton
Radio Rhythm – Fletcher Henderson

Segment 3: Radio Bands

How Many Times? – The Radiolites (Ben Selvin) / Irving Kaufman, v.
Little Girl – Fred Rich's Radio Orchestra / Elmer Feldkamp, v.
When I Take My Sugar To Tea – Harry Reser's Radio Band / Frank Luther, v.

Segment 4: Radio Singers

You're The Cream In My Coffee – Lou Gold AHO / The Radio Imps (Ed Smalle – Jerry Macy), v.
Anything Goes – Lew Stone and His Band / The Radio Three, v.
Lay My Head Beneath A Rose – Colonial Club Orchestra (Bob Haring) / Frank Bessinger & Frank Wright (The Radio Franks)

Segment 5: Happy Birthday

Otto Harbach was born August 18, 1873 in Salt Lake City, Utah.
Benny Davis was born August 21, 1895.
Gus Edwards was born August 18, 1879 in Prussia.

You're Devastating – Freddy Martin AHO / Elmer Feldkamp, v. (Otto Harbach)
Somebody's Lonely – Ben Bernie and His Hotel Roosevelt Orchestra / Paul Hagan, v. (Benny Davis)
In My Merry Oldsmobile – Jean Goldkette AHO (Gus Edwards)

THANKS FOR LISTENING!
If you enjoy the show, please let us know by leaving a comment on the website or the Facebook page or sending an email to Glenn@RapidlyRotatingRecords.com And remember, your requests and topic segments are always welcome.

RRR is also available as a podcast on iTunes, Spotify, Stitcher, TuneIn and Google Play Music. Simply enter Rapidly Rotating Records in the search box in any of those apps and a link to the show will appear. If you listen to the podcast, please subscribe and leave a rating and comment. THANK YOU!

We are proud and happy that Rapidly Rotating Records is also part of Global Community Radio, supplying campus and community radio stations worldwide with hosted music and spoken word programming from sources including public broadcasters, other community radio stations, and independent producers from around the globe.

The Rapidly Rotating Records telephone request line is now OPEN! In addition to sending cards or letters, sending email, or posting to the the show's website or Facebook page, you can now call in to request a particular artist, song or topic segment, leave feedback about the show, or ask questions or comment about the music. Of course, I'd be happy if you just call in to say "Hi!" and let me know you're out there listening. The easy-to-remember number is 234-PLAY 78s or 234-752-9787.

If you're a member of Facebook, but haven't "liked" the show, won't you please consider doing so? Just go to http://www.facebook.com/rapidlyrotatingrecords

And finally, please consider becoming a member of KISL. A basic membership is just $20 and a premium membership is $50. While most of you are not on Catalina Island and can't take advantage of the merchant discounts and offers that go with membership, you'll be supporting community radio on Catalina Island and beyond. I am not paid for the show, nor is it underwritten. I do the show because I love the music and the people, stories and culture behind it. Visit http://www.kislavalon.com/membership. Thanks!