Rapidly Rotating Records 78 RPM Show – 31 July 2011
Podcast: Play in new window | Download
Subscribe: Apple Podcasts | Android | Email | Google Podcasts | Stitcher | TuneIn | Spotify | RSS | More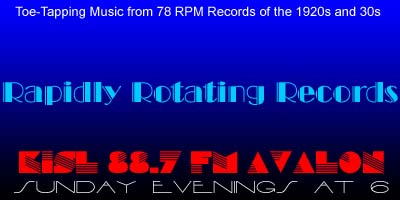 Welcome to Glenn Robison's Rapidly Rotating Records, bringing you vintage music to which you can't *not* tap your toes, from rapidly rotating 78 RPM records of the 1920s and '30s.
On this evening's show, we'll fulfill a request, get cradled, put some numbers in perspective and celebrate some birthdays, including one very special birthday.
Enjoy the show!
Here's the complete playlist:
Segment 1: Millions

It's A Million To One You're In Love – The Virginians / Franklyn Baur
If I Had A Million Dollars – Richard Himber and His Ritz-Carlton Orchestra / Joey Nash, v.
'm Feeling Like A Million – Teddy Hill AHO
One In A Million – Fats Waller and His Rhythm

Segment 2: Requests
Longtime listener Fred in Orlando, requested Anson Weeks' version of "It Was A Night In June" and "Popeye" – sadly I don't have a broadcast quality copy of Anson's version, but I do have another version.

Popeye – Varsity Eight / Billy Murray, v.
It Was A Night In June – Bert Lown and His Hotel Biltmore Orchestra / Ted Holt

Segment 3: Cradle Songs

There's A Cradle In Caroline – Ben Bernie and His Hotel Roosevelt Orchestra / Vaughn DeLeath, v.
Indian Cradle -Song – Ben Selvin AHO / Lewis James, v.
Sheltered By The Stars, Cradled By The Moon – RWK AHO / The Kahn-A-Sirs, v.

Segment 4: Being Young
Happy birthday to my dad, turning 92 on 1 August.

Make Up Your Mind You're Gonna Be Young – Society Serenaders (Stan Greening) / Richard Neller, v.
He May Be Old, But He's Got Young Ideas – Billy Murray
A Young Man's Fancy – Art Hickman's Orchestra
Hey Young Fella – Venuti & Lang

Segment 5: Topic
A number of composers and artists had birthdays last week, including Rudy Vallee, Buddy Clark and Billy Hillpot.

That's My Hap-Hap-Happiness – Larry Murphy AHO / (Don Voorhees ah Earl Carroll Vanities Orch. – / Unidentified , v.
Keepin' Out Of Mischief Now – Art Krueger and His Columbians / Vocal Trio
Jim Jams – Roy Bargy

Musician and band leader Art Krueger was born in Burlington, Wisconsin on July 27, 1897.
Pianist and composer Roy Bargy was born July 31 in 1894.

THANKS FOR LISTENING!
 If you enjoy the show, please let us know by leaving a comment on the website or the Facebook page or sending an email to Glenn@RapidlyRotatingRecords.com And remember, your requests and topic segments are always welcome.

RRR is also available as a podcast on iTunes, Spotify, Stitcher, TuneIn and Google Play Music. Simply enter Rapidly Rotating Records in the search box in any of those apps and a link to the show will appear. If you listen to the podcast, please subscribe and leave a rating and comment. THANK YOU!

We are proud and happy that Rapidly Rotating Records is also part of Global Community Radio, supplying campus and community radio stations worldwide with hosted music and spoken word programming from sources including public broadcasters, other community radio stations, and independent producers from around the globe.

The Rapidly Rotating Records telephone request line is now OPEN! In addition to sending cards or letters, sending email, or posting to the the show's website or Facebook page, you can now call in to request a particular artist, song or topic segment, leave feedback about the show, or ask questions or comment about the music. Of course, I'd be happy if you just call in to say "Hi!" and let me know you're out there listening. The easy-to-remember number is 234-PLAY 78s or 234-752-9787.

If you're a member of Facebook, but haven't "liked" the show, won't you please consider doing so? Just go to http://www.facebook.com/rapidlyrotatingrecords

And finally, please consider becoming a member of KISL. A basic membership is just $20 and a premium membership is $50. While most of you are not on Catalina Island and can't take advantage of the merchant discounts and offers that go with membership, you'll be supporting community radio on Catalina Island and beyond. I am not paid for the show, nor is it underwritten. I do the show because I love the music and the people, stories and culture behind it. Visit http://www.kislavalon.com/membership. Thanks!