Rapidly Rotating Records 78 RPM Show – 15 May 2011
Podcast: Play in new window | Download
Subscribe: Apple Podcasts | Android | Email | Google Podcasts | Stitcher | TuneIn | Spotify | RSS | More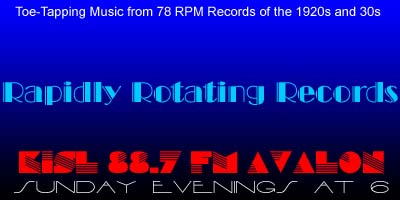 Welcome to Glenn Robison's Rapidly Rotating Records, bringing you vintage music to which you can't *not* tap your toes, from rapidly rotating 78 RPM records of the 1920s and '30s.
On this evening's show we're gonna take a dip, take a musical trip to St. Louis, bring some joy to your otherwise dull, drab life, we'll wake you up, and put you to sleep.
Enjoy the show!
Here's the complete playlist:
Segment 1: Wake Up
Last week we celebrated Billy Cotton's birthday, but I didn't mention that he would start his shows by shouting "Wakey Wakey".

Don't Wake Me Up, Let Me Dream – Howard Lanin and His Ben Franklin Dance Orchestra
When The Morning Glories Wake Up In The Morning – Jacques Renard and His Coconut Grove Orchestra / Johnny Marvin, v.
You're Gonna Wake Some Morning – Ethel Finney
Segment 2: Joyful
The next three segments are the result of a request from listener Bob. There are three different topics, but there is a common thread… can you work out what it is?

Monte Carlo Joys – Gus C. Edwards Orchestra
Milenburg Joys – Ted Lewis AHO
I've Got The Joys – Lanin's Southern Serenaders
Harlem Joys – Willie "The Lion" Smith and His Cubs

Segment 3: Dip

Papa Dip – New Orleans Wanderers
Dip Your Brush In The Sunshine – Ted Lewis and His Band / Ted Lewis, v.
Whale Dip – Blue Ribbon Syncopators

Segment 4: St. Louis

St. Louis Bound – Kansas City Tin Roof Stompers
St. Louis Shuffle – Fletcher Henderson's Orchestra
St. Louis Gal – Original Indiana Five
New St. Louis Blues – Ted Lewis and His Band

And you've probably figured out that the common thread in the last three segments was Ted Lewis, and three songs which were requested by listener Bob.

Segment 5: Sleep
We started the show with a segment about waking up, so here to wrap up the show is a segment about sleep.

Sleep, Baby Sleep – Edwin J. McEnelly's Orchestra / Elliott Shaw, v.
Dancing In Your Sleep – Ray Starita and His Ambassadors Band / Maurice Elwin, v.
Gosh Darn – Sleepy Hall and His Collegians / Bill Coty, Harold Van Emburgh, v.

THANKS FOR LISTENING!
If you enjoy the show, please let us know by leaving a comment on the website or the Facebook page or sending an email to Glenn@RapidlyRotatingRecords.com And remember, your requests and topic segments are always welcome.

RRR is also available as a podcast on iTunes, Spotify, Stitcher, TuneIn and Google Play Music. Simply enter Rapidly Rotating Records in the search box in any of those apps and a link to the show will appear. If you listen to the podcast, please subscribe and leave a rating and comment. THANK YOU!

We are proud and happy that Rapidly Rotating Records is also part of Global Community Radio, supplying campus and community radio stations worldwide with hosted music and spoken word programming from sources including public broadcasters, other community radio stations, and independent producers from around the globe.

The Rapidly Rotating Records telephone request line is now OPEN! In addition to sending cards or letters, sending email, or posting to the the show's website or Facebook page, you can now call in to request a particular artist, song or topic segment, leave feedback about the show, or ask questions or comment about the music. Of course, I'd be happy if you just call in to say "Hi!" and let me know you're out there listening. The easy-to-remember number is 234-PLAY 78s or 234-752-9787.

If you're a member of Facebook, but haven't "liked" the show, won't you please consider doing so? Just go to http://www.facebook.com/rapidlyrotatingrecords

And finally, please consider becoming a member of KISL. A basic membership is just $20 and a premium membership is $50. While most of you are not on Catalina Island and can't take advantage of the merchant discounts and offers that go with membership, you'll be supporting community radio on Catalina Island and beyond. I am not paid for the show, nor is it underwritten. I do the show because I love the music and the people, stories and culture behind it. Visit http://www.kislavalon.com/membership. Thanks!