Rapidly Rotating Records 78 RPM Show – 10 April 2011
Podcast: Play in new window | Download
Subscribe: Apple Podcasts | Android | Email | Google Podcasts | Stitcher | TuneIn | Spotify | RSS | More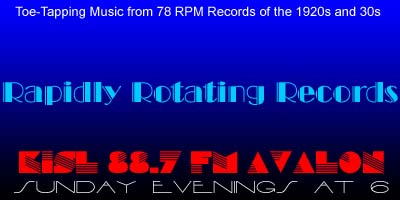 Welcome to Glenn Robison's Rapidly Rotating Records, bringing you vintage music to which you can't *not* tap your toes, from rapidly rotating 78 RPM records of the 1920s and '30s.
On this evening's show, we just don't care, we'll play some songs just because, we'll do some blazing, and request some identification.
Enjoy the show!
Here's the complete playlist:
Segment 1: Blazing

Blue Blazes – Jimmie Lunceford
Gazing At A Blazing Fire – Anson Weeks AHO / Pete Fylling, v.
Blazin' – Coon-Sanders Orchestra
Blaze Away – New Mayfair Dance Orchestra / Jack Turner & Chorus

Segment 2: Whose segment?

Whose Who Are You? – Paul Ash AHO / Milton Watson, v.
Whose Honey Are You? – Ruth Etting
Whose Baby Are You? – All Star Trio
Whose Arms Are You In Tonight? – Cole McElroy's Spanish Ballroom Orchestra

Segment 3: Bamboo
Who would've thought there were enough vintage songs for a whole set about bamboo… but here it is.

In A Bamboo Garden – Roger Wolfe Kahn AHO / Frank Munn, v.
Bamboo Bay – Gene Rodemich's Orchestra
Where The Bamboo Babies Grow – The Virginians

Segment 4: For no particular reason, just…because

Because Of Once Upon A Time – Fats Waller and His Rhythm / Fats Waller, v.
Because You Are My Dream Girl – Blue Steele AHO / Bob Nolan, v.
Because They All Love You – Chubb-Steinnberg Orchestra
Because You Love Me, Baby – Doc Dougherty AHO / Fred Erdman, v.

Segment 5: I just don't care

I Don't Care – Six Jumping Jacks
Who Says They Don't Care – Al Lynch AHO (Pierrot Syncopators) / Al Lynch, v.
I'm Making Believe That I Don't Care – Bob Haring AHO / Vaughn DeLeath, v.

THANKS FOR LISTENING!
If you enjoy the show, please let us know by leaving a comment on the website or the Facebook page or sending an email to Glenn@RapidlyRotatingRecords.com And remember, your requests and topic segments are always welcome.

RRR is also available as a podcast on iTunes, Spotify, Stitcher, TuneIn and Google Play Music. Simply enter Rapidly Rotating Records in the search box in any of those apps and a link to the show will appear. If you listen to the podcast, please subscribe and leave a rating and comment. THANK YOU!

We are proud and happy that Rapidly Rotating Records is also part of Global Community Radio, supplying campus and community radio stations worldwide with hosted music and spoken word programming from sources including public broadcasters, other community radio stations, and independent producers from around the globe.

The Rapidly Rotating Records telephone request line is now OPEN! In addition to sending cards or letters, sending email, or posting to the the show's website or Facebook page, you can now call in to request a particular artist, song or topic segment, leave feedback about the show, or ask questions or comment about the music. Of course, I'd be happy if you just call in to say "Hi!" and let me know you're out there listening. The easy-to-remember number is 234-PLAY 78s or 234-752-9787.

If you're a member of Facebook, but haven't "liked" the show, won't you please consider doing so? Just go to http://www.facebook.com/rapidlyrotatingrecords

And finally, please consider becoming a member of KISL. A basic membership is just $20 and a premium membership is $50. While most of you are not on Catalina Island and can't take advantage of the merchant discounts and offers that go with membership, you'll be supporting community radio on Catalina Island and beyond. I am not paid for the show, nor is it underwritten. I do the show because I love the music and the people, stories and culture behind it. Visit http://www.kislavalon.com/membership. Thanks!