Rapidly Rotating Records 78 RPM Show – 20 February 2011
Podcast: Play in new window | Download
Subscribe: Apple Podcasts | Android | Email | Google Podcasts | Stitcher | TuneIn | Spotify | RSS | More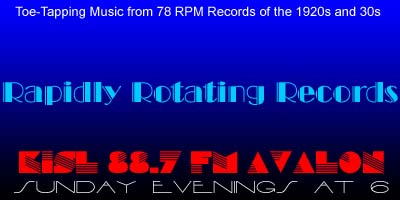 Welcome to Glenn Robison's Rapidly Rotating Records, bringing you vintage music to which you can't *not* tap your toes, from rapidly rotating 78 RPM records of the 1920s and '30s.
On this evening's show we'll celebrate the birthdays of Wayne King, Orrin Tucker, Richard Himber, Walter Donaldson, Harold Arlen, James F. Hanley and Bert Kalmar, and celebrate the human spirit.
Enjoy the show!
Here's the complete playlist:
Segment 1: Wayne King
February 16 marked the birth in Savanna, Illinois in 1901 of Harold Wayne King, better known as Wayne King, the waltz king.

Put A Little Salt On The Bluebird's Tail – Wayne King AHO / Ernie Birchill, v.
Promises – Wayne King AHO / Andy Hansen, Ernie Burchill, v.
I Don't Know Why (I Just Do) – Wayne King AHO / Andy Hansen, Ernie Burchill, Bill Egner, v.
Hello, Beautiful – Wayne King AHO / Andy Hansen, Ernie Burchill, Bill Egner, v.

Segment 2: Orrin Tucker
Listener Aaron in the UK reminded me that the last surviving bandleader of the 1930s celebrated his 100th birthday the other day. Orrin Tucker was born on February 17, 1911 in St. Louis, Missouri.

Lydia The Tattooed Lady – Orrin Tucker and his Orchestra / Orrin Tucker & Band, v.
I Need Lovin' – OTAHO / Orrin Tucker, v.
Especially For You – OTAHO / Bonnie Baker, v.
Midnight – OTAHO / Gil Mershon, v.

Segment 3: Dick Himber
February 20 marked the birth in 1907 in Newark, New Jersey, of Herbert Richard Himber, better known as band leader Dick Himber.

Doin' The Uptown Lowdown – Dick Himber and His Essex House Orchestra / Johnny Mercer, v.
Avalon – Richard Himber and His Studebaker Champion Orchestra / Joey, Nash, v.
The Marine's Hymn – Richard Himber and His Ritz-Carlton Orchestra / Guy Russell, v.
You Ought To Be In Pictures – Dick Himber and His Essex House Orchestra / Joey Nash, v.

Segment 4: Walter Donaldson
February 15 marked the birth in 1893 in Brooklyn, New York of composer Walter Donaldson.

Yes Sir, That's My Baby – Harmony Dance Orchestra (Ben Selvin) / Billy Jones
What Did I Tell You – Lou Gold AHO / Arthur Hall (Cr. As James Potter)
My Baby Just Cares For Me – Tom Smith and Dudd Williamson
T'ain't No Sin – The Rhythmic Eight / Maurice Elwin, v.

Segment 5: Harold Arlen
February 15 marked the birth in 1905 in Buffalo, New York, of Hyman Arluck. You may know him better as one of the great composers of American standards of the 20th century, Harold Arlen.

As Long As I Live – The Spirits Of Rhythm / Red McKenzie
Buffalo Rhythm – Billy Stennett and His Carolina Stompers
Minor Gaff – Tennessee Tooters
It's Only A Paper Moon – Paul Whiteman AHO / Peggy Healy

Segment 6: Jimmy Hanley
February 17 marked the birth in 1892 in Rennselaer, Indiana, of songwriter James Frederick Hanley.

Sing Song Girl – Leroy Shield and The Victor Hollywood Orchestra / James Blackstone, v.
Zing! Went The Strings Of My Heart – Jack Hylton AHO / Pat O'Malley, v.
I'm In The Market For You – Columbia Photo Players (Ben Selvin) / Don Howard, v.
The Cute Little Things You Do – The High Hatters / Frank Luther, v.

Segment 7: Very Human

Was That The Human Thing To Do? – The New Yorkers / The Boswell Sisters, v.
I Am Only Human After All – Victor Arden / Phil Ohman / Frank Luther, v.
I'm Just An Ordinary Human – Ozzie Nelson AHO / Ozzie Nelson, v.
Complainin' (It's Human Nature To Complain) – Sophie Tucker

Segment 7 (1/2): Johnny Dodds
February 16, 1892 was the birthday of clarinetist Johnny Dodds.

Blue Wahsboard Stomp – Johnny Dodds' Washboard Band

Segment 8: Bert Kalmar
February 16 marked the birth in 1884 in New York City of lyricist Bert Kalmar, half of the great songwriting team of Kalmar & Ruby.

Take Your Girlie To The Movies – Irving Kaufman
I Wanna Be Loved By You – Leonard Joy AH orchestra / Helen Kane, v.
I'm So Afraid Of You – Isham Jones AHO / Frank Sylvano, v.
Dancing The Devil Away – Victor Arden and Phil Ohman, Duo-Pianists / Frank Luther, v.

THANKS FOR LISTENING!
If you enjoy the show, please let us know by leaving a comment on the website or the Facebook page or sending an email to Glenn@RapidlyRotatingRecords.com And remember, your requests and topic segments are always welcome.

RRR is also available as a podcast on iTunes, Spotify, Stitcher, TuneIn and Google Play Music. Simply enter Rapidly Rotating Records in the search box in any of those apps and a link to the show will appear. If you listen to the podcast, please subscribe and leave a rating and comment. THANK YOU!

We are proud and happy that Rapidly Rotating Records is also part of Global Community Radio, supplying campus and community radio stations worldwide with hosted music and spoken word programming from sources including public broadcasters, other community radio stations, and independent producers from around the globe.

The Rapidly Rotating Records telephone request line is now OPEN! In addition to sending cards or letters, sending email, or posting to the the show's website or Facebook page, you can now call in to request a particular artist, song or topic segment, leave feedback about the show, or ask questions or comment about the music. Of course, I'd be happy if you just call in to say "Hi!" and let me know you're out there listening. The easy-to-remember number is 234-PLAY 78s or 234-752-9787.

If you're a member of Facebook, but haven't "liked" the show, won't you please consider doing so? Just go to http://www.facebook.com/rapidlyrotatingrecords

And finally, please consider becoming a member of KISL. A basic membership is just $20 and a premium membership is $50. While most of you are not on Catalina Island and can't take advantage of the merchant discounts and offers that go with membership, you'll be supporting community radio on Catalina Island and beyond. I am not paid for the show, nor is it underwritten. I do the show because I love the music and the people, stories and culture behind it. Visit http://www.kislavalon.com/membership. Thanks!