RRR Show – December 2, 2012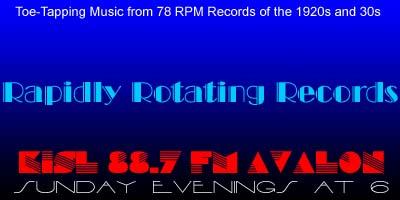 Hard to believe it's December already!! On this week's brand new edition of the show, we right a wrong, make a correction, do some rambling, fulfill a request and hear from some royalty. Simply click on the link below to listen and/or download the show. As always, your comments, requests and topic suggestions are welcome and actively encouraged!
Rapidly Rotating Records Show – December 2, 2012 (128 bit .mp3)
Here's the complete playlist:
TOPIC: Rambling
Rambling In Rhythm – Arthur Schutt, Piano Solo
Them Rambling Blues – The Little Ramblers
Marta (Rambling Rose of the Wildwood) – Lou Gold AHO / Smith Ballew, v.
Rambling Wreck from Georgia Tech – All-Star Collegians / Unidentified, v.
TOPIC: Al Lentz
Who Was That Lady? – Al Lentz AHO / Al Lentz & Chorus, v.
Sweet Thing – Al Lentz AHO / Al Lentz, v.
I've Got The Girl – Al Lentz AHO / Al Lentz, v.
How Could Red Riding Hood? – Al Lentz AHO / Al Lentz, v.
TOPIC: Some Day
I May Learn To Forget Some Day – Bob Cole (Prince Piotti)
Some Day Soon – Anson Weeks AHO / Warren Luce, v.
Some Day (We'll Meet Again) – Tennessee Happy Boys
TOPIC: Prince
I'm Bound To Keep After You – Vincent Rose AHO / Prince Piotti, v.
Prince Of Wails – Bennie Moten's Kansas City Orchestra
TOPIC: Coast Guard
Semper Paratus – Bob Crosby AHO
In Sweet September – George Hamilton Green's All Star Trio
Bam Bam Bammy Shore – Night Club Orchestra / Billy Jones, v.
THANKS FOR LISTENING!
Podcast: Play in new window | Download
Subscribe: Apple Podcasts | Android | Email | Google Podcasts | Stitcher | Spotify | RSS | More