Rapidly Rotating Records 78 RPM Show – 23 January 2011
Podcast: Play in new window | Download
Subscribe: Apple Podcasts | Android | Email | Google Podcasts | Stitcher | TuneIn | Spotify | RSS | More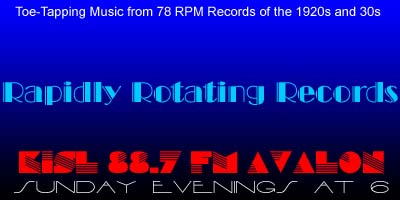 Welcome to Glenn Robison's Rapidly Rotating Records, bringing you vintage music to which you can't *not* tap your toes, from rapidly rotating 78 RPM records of the 1920s and '30s.
On this evening's show, we'll go to town, get some sympathy, listen to some stories and celebrate the birthdays of Harry Reser and "The Fat Man", no, not me.
Enjoy the show!
Here's the complete playlist:
Segment 1: Town

Hotsy Totsy Town – Dixie Daisies
Back O' Town Blues – Original Indiana Five
Talk Of The Town – Ted Weems AHO / Parker Gibbs, v.
Segment 2: Sympathy
On January 21 back in 1789, "The Power Of Sympathy", widely considered to be the first American novel, was published anonymously in Boston by Isaiah Thomas. It was author William Hill Brown's first novel, and is based on a well known local New England scandal. So here's a sympathetic set.

I Need Sympathy – Jesse Stafford AHO / Jane Jones, v.
Sympathy Waltz – Frank Banta, Piano Solo
So Sympathetic – Merle Johnston and His Ceco Couriers

Segment 3: A Bit Plump
January 21 marked the debut in 1946 at 8:30 PM on ABC radio of the mystery adventure series "The Fat Man". In the series, "The Fat Man", Brad Runyon, weighed 239 pounds, as listeners heard each week in the opening when Runyon steps on a scale and drops in a coin. J. Scott Smart, who played the portly detective, in real life weighed in at 270 pounds. The series, which originated at WJZ in New York, was created by Dashiell Hammett and also featured Ed Begley, Sr. as Sergeant O'Hara. So, to commemorate "The Fat Man", here's a plump set.

Fat Man Blues – Tiny Parham and His Musicians
Big Fat Mama – Clarence Williams AHO / Ed Allen, v.
Fat Fanny Stomp – Jim Clarke

Segment 4: Stories
January 18 marked the debut in 1937 on CBS radio of "Aunt Jenny's Real Life Stories". A complete story was told in five, 15-minute episodes which aired Monday thru Friday each week. Aunt Jenny was played by Edith Spencer and later, by Agnes Young. The show continued on radio until September 28, 1956. Aunt Jenny's whistling canary was played by animal imitator, Henry Boyd. Aunt Jenny was created as an advertising character created by Lever Brothers Corporation for their Spry brand vegetable shortening, which sponsored the radio program. Well, we've got some stories of our own, beginning with the voice that had them fainting.

A Bed-Time Story – Rudy Vallee
It Might Have Been A Different Story – Dick Himber and His Essex House Orch / Joey Nash, v.
What's Your Story (What's Your Jive) – Fletcher Henderson AHO / Jerry Black, v.

Segment 5: Harry Reser
January 17 marked the birth in 1896 in Piqua, Ohio of one of the greatest banjo players of all time, Harry Reser.

I'm Still Caring – Harry Reser's Rounders / Tom Stacks, v.
Paddlin' Madelin' Home – Tennessee Happy Boys / Arthur Hall, v.
When You Do What You Do – Harry Reser's Orchestra
The Cat And The Dog – Harry Reser, Banjo, with Piano Accompaniment

THANKS FOR LISTENING!
If you enjoy the show, please let us know by leaving a comment on the website or the Facebook page or sending an email to Glenn@RapidlyRotatingRecords.com And remember, your requests and topic segments are always welcome.

RRR is also available as a podcast on iTunes, Spotify, Stitcher, TuneIn and Google Play Music. Simply enter Rapidly Rotating Records in the search box in any of those apps and a link to the show will appear. If you listen to the podcast, please subscribe and leave a rating and comment. THANK YOU!

We are proud and happy that Rapidly Rotating Records is also part of Global Community Radio, supplying campus and community radio stations worldwide with hosted music and spoken word programming from sources including public broadcasters, other community radio stations, and independent producers from around the globe.

The Rapidly Rotating Records telephone request line is now OPEN! In addition to sending cards or letters, sending email, or posting to the the show's website or Facebook page, you can now call in to request a particular artist, song or topic segment, leave feedback about the show, or ask questions or comment about the music. Of course, I'd be happy if you just call in to say "Hi!" and let me know you're out there listening. The easy-to-remember number is 234-PLAY 78s or 234-752-9787.

If you're a member of Facebook, but haven't "liked" the show, won't you please consider doing so? Just go to http://www.facebook.com/rapidlyrotatingrecords

And finally, please consider becoming a member of KISL. A basic membership is just $20 and a premium membership is $50. While most of you are not on Catalina Island and can't take advantage of the merchant discounts and offers that go with membership, you'll be supporting community radio on Catalina Island and beyond. I am not paid for the show, nor is it underwritten. I do the show because I love the music and the people, stories and culture behind it. Visit http://www.kislavalon.com/membership. Thanks!