Rapidly Rotating Records 78 RPM Show – 28 November 2010
Podcast: Play in new window | Download
Subscribe: Apple Podcasts | Android | Email | Google Podcasts | Stitcher | TuneIn | Spotify | RSS | More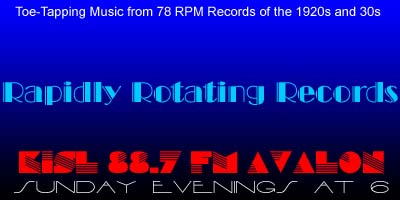 Welcome to Glenn Robison's Rapidly Rotating Records, bringing you vintage music to which you can't *not* tap your toes, from rapidly rotating 78 RPM records of the 1920s and '30s.
On this evening's show we're gonna be looking into the future, we'll do some wobbling, we'll have some time for sergeants, have a cardiac set, a military set and listen to this past week in recording history.
Enjoy the show!
Here's the complete playlist:
Segment 1: Wobbling

Missouri Wobble – Bennie Moten's Kansas City Orchestra
Paradise Wobble – Charlie Johnson's Original Paradise Ten / Monette Moore, v
Mississippi Wobble – Jimmy Wade and His Dixielanders
The Wolf Wobble – Joe Venuti's Rhythm Boys / Harold Arlen, v.

Segment 2: Things that are gonna be
Rich in Illinois requesting "Looks Like It's Gonna Be Me" by Fred Hall and His Sugar Babies, inspiring this set.

Looks Like It's Gonna Be Me – Fred Hall AHO / Arthur Fields, v.
It's Gonna Be You – Sid Peltyn AHO (Tom Berwick AHO) / Thelma Nevins, v.
Everything's Gonna Be All Right – Orchestre Chez Fysher (Ben Selvin) / Ben Selvin, v.

Segment 3: Sergeants
There aren't a lot of vintage songs about sergeants, so venturing outside of our normal 20s and 30s, here's tracks from 1929, 1938 and 1942.

Sergeant Flagg and Sergeant Quirt – Fred Hall and Arthur Fields
Our Sargeant Major – George Formby
Kiss Me Goodnight, Sergeant Murphy – Art Kassel and His "Kassels-In-The-Air" / Art Kassel, v.

Segment 4: Hearts
A lovely listener, Irene, in New York City requested a couple of records which are the inspiration behind this cardiac set.

You Gave Me Your Heart (So I Gave You Mine) – The Happy Six
Into My Heart – Nat Shilkret and the Victor Orchestra / Frank Munn, v.
Lonely Heart – Nat Shilkret and the Victor Orchestra / Frank Munn, v.
You Are My Heart's Delight – Norman Long Introducing The Savoy Hotel Orpheans

Segment 5: Horses
For all the hard working folks at White Stallion Ranch, a working cattle ranch and dude ranch in Tucson, Arizona, a few songs with a very equine theme.

Black Horse Stomp – Five Musical Blackbirds
Horses – Earl Oliver's Jazz Babies (Harry Reser) / Tom Stacks & v3, v.
The Horse With The Lavender Eyes – Johnny Johnson AHO / Harry McDaniel, v.

THANKS FOR LISTENING!
If you enjoy the show, please let us know by leaving a comment on the website or the Facebook page or sending an email to Glenn@RapidlyRotatingRecords.com And remember, your requests and topic segments are always welcome.

RRR is also available as a podcast on iTunes, Spotify, Stitcher, TuneIn and Google Play Music. Simply enter Rapidly Rotating Records in the search box in any of those apps and a link to the show will appear. If you listen to the podcast, please subscribe and leave a rating and comment. THANK YOU!

We are proud and happy that Rapidly Rotating Records is also part of Global Community Radio, supplying campus and community radio stations worldwide with hosted music and spoken word programming from sources including public broadcasters, other community radio stations, and independent producers from around the globe.

The Rapidly Rotating Records telephone request line is now OPEN! In addition to sending cards or letters, sending email, or posting to the the show's website or Facebook page, you can now call in to request a particular artist, song or topic segment, leave feedback about the show, or ask questions or comment about the music. Of course, I'd be happy if you just call in to say "Hi!" and let me know you're out there listening. The easy-to-remember number is 234-PLAY 78s or 234-752-9787.

If you're a member of Facebook, but haven't "liked" the show, won't you please consider doing so? Just go to http://www.facebook.com/rapidlyrotatingrecords

And finally, please consider becoming a member of KISL. A basic membership is just $20 and a premium membership is $50. While most of you are not on Catalina Island and can't take advantage of the merchant discounts and offers that go with membership, you'll be supporting community radio on Catalina Island and beyond. I am not paid for the show, nor is it underwritten. I do the show because I love the music and the people, stories and culture behind it. Visit http://www.kislavalon.com/membership. Thanks!