Rapidly Rotating Records 78 RPM Show – 24 October 2010
Podcast: Play in new window | Download
Subscribe: Apple Podcasts | Android | Email | Google Podcasts | Stitcher | TuneIn | Spotify | RSS | More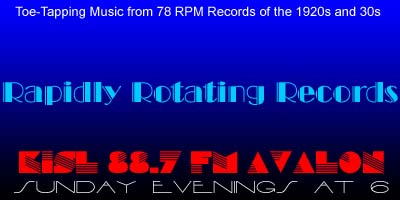 Welcome to Glenn Robison's Rapidly Rotating Records, bringing you vintage music to which you can't *not* tap your toes, from rapidly rotating 78 RPM records of the 1920s and '30s.
On this evening's show we'll celebrate the birthdays of Roger Wolfe Kahn, Annette Hanshaw and Jelly Roll Morton, fulfill some requests, and play some hokum.
Enjoy the show!
Here's the complete playlist:
Segment 1: Roger Wolfe Kahn 
October 19th marked the birth in 1907 in Morristown, New Jersey, of bandleader and composer Roger Wolfe Kahn.

Birdie – Roger Wolfe Kahn AHO / Sibyl Sanderson Fagan, Whistling
Yankee Rose – Roger Wolfe Kahn AHO
Raquel Meller Medley – Roger Wolfe Kahn AHO
A Little Birdie Told Me So – Roger Wolfe Kahn AHO / Johnny Marvin, v.
Segment 2: Requests
There is no rhyme nor reason whatsoever to this next set of records other than they're all requests.

Homesick – Bailey's Lucky Seven / Cliff Edwards, v.
Hollywood – Ambassadors
Ragtime Cowboy Joe – Bob Roberts

Segment 3: Hokum
Hokum is defined as "trite or mawkish sentiment or crude humor used to elicit a quick emotional response from an audience, or something which is apparently impressive, legitimate or genuine, but is in fact untrue, insincere or false. Well, here's a whole set of musical hokum.

Hokum Smokum Yodel Indian Man – The Radio Boys
Hokum – Art Hickman's Orchestra
Hokum Blues – Dallas String Band with Coley Jones / Band, v.
Hokum Stomp – Hokum Boys and Jane Lucas

Segment 4: Annette Hanshaw
October 18 marked the birth in 1901 of "The Personality Girl", Annette Hanshaw. She earned her nickname for the many many names she was released under: for sentimental songs she was renamed Gay Ellis, on the Harmony label she was known as Dot Dare, on Velvet Tone she was Patsy Young, and other of her pseudonyms included Ethel Bingham, Marion Lee, Janet Shaw and Lelis Stanford.

That's You, Baby – Annette Hanshaw
My Inspiration Is You – Annette Hanshaw
Happy Days Are Here Again – Gay Ellis and Her Boys

Segment 5: "Jelly Roll" Morton
October 20 marked the birth in 1890 in New Orleans of Ferdinand Joseph Morton, better known as "Jelly Roll" Morton.

Courthouse Bump – Jelly Roll Morton AHO
Seattle Hunch – Jelly Roll Morton Piano Solo
That'll Never Do – Jelly Roll Morton and His Red Hot Peppers

THANKS FOR LISTENING!
If you enjoy the show, please let us know by leaving a comment on the website or the Facebook page or sending an email to Glenn@RapidlyRotatingRecords.com And remember, your requests and topic segments are always welcome.

RRR is also available as a podcast on iTunes, Spotify, Stitcher, TuneIn and Google Play Music. Simply enter Rapidly Rotating Records in the search box in any of those apps and a link to the show will appear. If you listen to the podcast, please subscribe and leave a rating and comment. THANK YOU!

We are proud and happy that Rapidly Rotating Records is also part of Global Community Radio, supplying campus and community radio stations worldwide with hosted music and spoken word programming from sources including public broadcasters, other community radio stations, and independent producers from around the globe.

The Rapidly Rotating Records telephone request line is now OPEN! In addition to sending cards or letters, sending email, or posting to the the show's website or Facebook page, you can now call in to request a particular artist, song or topic segment, leave feedback about the show, or ask questions or comment about the music. Of course, I'd be happy if you just call in to say "Hi!" and let me know you're out there listening. The easy-to-remember number is 234-PLAY 78s or 234-752-9787.

If you're a member of Facebook, but haven't "liked" the show, won't you please consider doing so? Just go to http://www.facebook.com/rapidlyrotatingrecords

And finally, please consider becoming a member of KISL. A basic membership is just $20 and a premium membership is $50. While most of you are not on Catalina Island and can't take advantage of the merchant discounts and offers that go with membership, you'll be supporting community radio on Catalina Island and beyond. I am not paid for the show, nor is it underwritten. I do the show because I love the music and the people, stories and culture behind it. Visit http://www.kislavalon.com/membership. Thanks!