Rapidly Rotating Records 78 RPM Show – 10 October 2010
Podcast: Play in new window | Download
Subscribe: Apple Podcasts | Android | Email | Google Podcasts | Stitcher | TuneIn | Spotify | RSS | More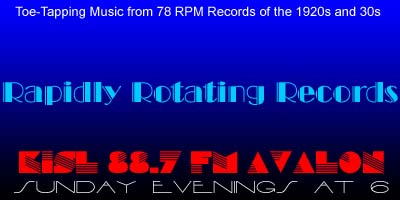 Welcome to Glenn Robison's Rapidly Rotating Records, bringing you vintage music to which you can't *not* tap your toes, from rapidly rotating 78 RPM records of the 1920s and '30s.
On this evening's show we'll celebrate the birthdays of Milton Ager, Clarence Williams, Johnny Burke and Vernon Duke, and play "ten" songs.That's "ten" songs, not ten songs.
Enjoy the show!
Here's the complete playlist:
Segment 1: Milton Ager
October 6 marked the birth in 1893 in Chicago, Illinois, of composer Milton Ager.

There's A New Day Coming – The Midnight Minstrels / Sam Browne & Trio, v.
Trouble In Paradise – Ed Lloyd AHO (Freddy Martin) / Elmer Feldkamp, v.
If You Don't Love Me – The Picadilly Players
There's Rain In My Eyes – Fletcher Henderson AHO / Chuck Richards, v.

Segment 2: Clarence Williams
October 8 marked the birth in 1898 outside of New Orleans, Louisiana of singer, pianist and composer Clarence Williams.

Wildcat Blues – Clarence Williams Blue Five
Wildflower Rag – Clarence Williams (Piano Solo)
Cushion Foot Stomp – Clarence Williams Washboard Band / Clarence Lee, v.

Segment 3: Johnny Burke
October 3 marked the birth in 1903 in Antioch, California of composer Johnny Burke.

It's An Old Spanish Custom – The Rhythmic Troubadors (Stan Greening) / Fred Douglas, v.
My Very Good Friend The Milkman – Jack Jackson AHO / Jack Jackson, v.
You're Not The Only Oyster In The Stew – Fats Waller and His Rhythm / Fats Waller, v.

Segment 4: Vernon Duke
Born t October 10 in 1903 in Russia was songwriter Vladimir Alexandrovich Dukelsky, one of the most successful American writers of sophisticated popular songs of the 30s and 40s. You may know him better as Vernon Duke.

I am Only Human After All – Colonial Club Orchestra (Bob Haring) / Dick Robertson, v.
April In Paris – Henry Hall & The BBC Dance Orchestra / Les Allen, v.
What Is There To Say? – Rudy Vallee ah Connecticut Yankees

Segment 5: 10 10 10
Today is October 10, 2010, or 10 10 10. Back in July, we played some "ten" songs in connection with our tenth anniversary, but here are a few "ten" songs we didn't get to.

Take A Number from One To Ten – Tom Coakley AHO / Kay Thompson, v.
Ten Cents A Dance – High Hatters / Frank Luther, v.
Half Past Ten – Paul Ash
I Found Romance for 10 cents a dance – Will Osborne AHO / Will Osborne, v.

THANKS FOR LISTENING!
If you enjoy the show, please let us know by leaving a comment on the website or the Facebook page or sending an email to Glenn@RapidlyRotatingRecords.com And remember, your requests and topic segments are always welcome.

RRR is also available as a podcast on iTunes, Spotify, Stitcher, TuneIn and Google Play Music. Simply enter Rapidly Rotating Records in the search box in any of those apps and a link to the show will appear. If you listen to the podcast, please subscribe and leave a rating and comment. THANK YOU!

We are proud and happy that Rapidly Rotating Records is also part of Global Community Radio, supplying campus and community radio stations worldwide with hosted music and spoken word programming from sources including public broadcasters, other community radio stations, and independent producers from around the globe.

The Rapidly Rotating Records telephone request line is now OPEN! In addition to sending cards or letters, sending email, or posting to the the show's website or Facebook page, you can now call in to request a particular artist, song or topic segment, leave feedback about the show, or ask questions or comment about the music. Of course, I'd be happy if you just call in to say "Hi!" and let me know you're out there listening. The easy-to-remember number is 234-PLAY 78s or 234-752-9787.

If you're a member of Facebook, but haven't "liked" the show, won't you please consider doing so? Just go to http://www.facebook.com/rapidlyrotatingrecords

And finally, please consider becoming a member of KISL. A basic membership is just $20 and a premium membership is $50. While most of you are not on Catalina Island and can't take advantage of the merchant discounts and offers that go with membership, you'll be supporting community radio on Catalina Island and beyond. I am not paid for the show, nor is it underwritten. I do the show because I love the music and the people, stories and culture behind it. Visit http://www.kislavalon.com/membership. Thanks!