Rapidly Rotating Records 78 RPM Show – 26 September 2010
Podcast: Play in new window | Download
Subscribe: Apple Podcasts | Android | Email | Google Podcasts | Stitcher | TuneIn | Spotify | RSS | More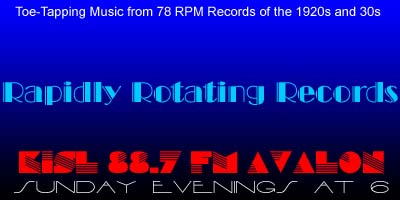 Welcome to Glenn Robison's Rapidly Rotating Records, bringing you vintage music to which you can't *not* tap your toes, from rapidly rotating 78 RPM records of the 1920s and '30s.
On this evening's show, we'll play some sparkling songs, and celebrate the birthdays of Vaughn DeLeath, Al Hoffman, Frank Crumit, and several others.
Enjoy the show!
Here's the complete playlist:
Segment 1: Sparkling

Come On Spark Plug – Arthur Lange AHO
Sparkling Blue Eyes – Carlisle's Kentucky Boys / Sonny Boy, Tommy Carlisle, v.
The Sunshine Always Shines For Me – The Merry Sparklers / Harvey Hindermyer

Segment 2: Al Hoffman
September 25 marked the birth in 1902 in Minsk, Russia of composer Al Hoffman.

A Picnic For Two – Fred Waring and His Pennsylvanians / Nelson Keller, Clare Hanlon, Tom Waring
The Prize Waltz – Don Bestor AHO / Neil Buckley, v.
It's Winter Again – Isham Jones AHO / Frank Sylvano, v.

Segment 3: Frank Crumit
September 26 marks the birth in 1889 in Jackson, Ohio, of comic actor, singer and ukulele player, Frank Crumit.

Timbuctoo – Paul Biese Trio / Frank Crumit, v.
Oh, By Jingo! Oh, By Gee! You're The Only Girl For Me – Frank Crumit
What Kind Of A Noise Annoys An Oyster? – Frank Crumit

Segment 4: Vaughn DeLeath
September 26 marks the birth in 1894 in Mt. Pulaski, Illinois of "The First Lady of Radio", or "The Original Radio Girl", Vaughn DeLeath, born Leonore Vonderleith.

If Tears Could Bring You Back To Me (I'd Cry My Eyes Out For You) – Park Lane Orchestra / Vaughn De Leath, v.
Drowsy Head – Gennett Dance Orchestra
No Wonder I'm Happy – George Hamilton Green's Star Trio / Vaughn De Leath, v.

Segment 5: This Week In Recording History
September 24, 1900 – Poley McClintock
September 22, 1894 – Composer Dave Dreyer
September 26, 1898 – George Gershwin
September 26, 1901 – Ted Weems

Any Ice Today, Lady? – Fred Waring's Pennsylvanians / Poley McClintock, v.
I Want To Be Known As Susie's Feller – Isham Jones AHO / Tom Stacks, v. (Dave Dreyer)
Soon – Red Nichols and His Five Pennies / Gene Krupa, v. (George Gershwin)
Play That Hot Guitar – Ted Weems AHO / Parker Gibbs, v.

THANKS FOR LISTENING!
If you enjoy the show, please let us know by leaving a comment on the website or the Facebook page or sending an email to Glenn@RapidlyRotatingRecords.com And remember, your requests and topic segments are always welcome.

RRR is also available as a podcast on iTunes, Spotify, Stitcher, TuneIn and Google Play Music. Simply enter Rapidly Rotating Records in the search box in any of those apps and a link to the show will appear. If you listen to the podcast, please subscribe and leave a rating and comment. THANK YOU!

We are proud and happy that Rapidly Rotating Records is also part of Global Community Radio, supplying campus and community radio stations worldwide with hosted music and spoken word programming from sources including public broadcasters, other community radio stations, and independent producers from around the globe.

The Rapidly Rotating Records telephone request line is now OPEN! In addition to sending cards or letters, sending email, or posting to the the show's website or Facebook page, you can now call in to request a particular artist, song or topic segment, leave feedback about the show, or ask questions or comment about the music. Of course, I'd be happy if you just call in to say "Hi!" and let me know you're out there listening. The easy-to-remember number is 234-PLAY 78s or 234-752-9787.

If you're a member of Facebook, but haven't "liked" the show, won't you please consider doing so? Just go to http://www.facebook.com/rapidlyrotatingrecords

And finally, please consider becoming a member of KISL. A basic membership is just $20 and a premium membership is $50. While most of you are not on Catalina Island and can't take advantage of the merchant discounts and offers that go with membership, you'll be supporting community radio on Catalina Island and beyond. I am not paid for the show, nor is it underwritten. I do the show because I love the music and the people, stories and culture behind it. Visit http://www.kislavalon.com/membership. Thanks!