Rapidly Rotating Records 78 RPM Show – 29 August 2010
Podcast: Play in new window | Download
Subscribe: Apple Podcasts | Android | Email | Google Podcasts | Stitcher | TuneIn | Spotify | RSS | More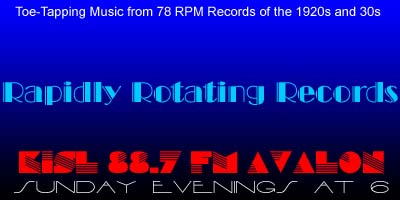 Welcome to Glenn Robison's Rapidly Rotating Records, bringing you vintage music to which you can't *not* tap your toes, from rapidly rotating 78 RPM records of the 1920s and '30s.
On this evening's show, we'll play some CAPS records, have a half segment, go whale watching, half fulfill some requests, and celebrate some birthdays.
Enjoy the show!
Here's the complete playlist:
Segment 1: CAPS Finds
A couple of weeks ago, I attended the annual California Antique Phonograph Society's show and sale in Anaheim, California. Last week I played a blue Columbia that I got at the sale, and here are some other records I picked up. I don't believe I've played any of these bands on the show before.

Do Something – Del Delbridge and His Capitol Theater Orchestra / Unidentified v.
She Chills Me – Chic Scoggin and The Pla-Mor Orchestra / Unidentified, v.
If I Can't Have You – Gerald Marks AHO / Nelson Bitterman, v.
Black Horse Stomp – George Posnak AHO

Segment 2: Halfway

Half Way To Heaven – Cliff Edwards
Half A Moon – Devine's Wisconsin Roof Orchestra
Half A Kiss – George Fisher and His Kit-Kat Band

Segment 3: Whales

Monstro the Whale – Ted Weems AHO / Red Ingle & Marvell Maxwell, v.
Whale Dip – Blue Ribbon Syncopators
Three Little Fishies – Kay Kyser / Harry Babbitt, v.

Segment 4: Requests
Joakim in Amsterdam, The Netherlands has been listening to the show for about a year and sent a nice email last week. He requested three specific recordings, and I have all three songs, but not by any of the bands that he requested. But these are some pretty nice versions, which he may not have heard, and which I think he'll like.

Blue Baby – Kenneth Casey AHO
Take me in your arms – Walter Feldkamp AHO / Elmer Feldkamp, v.
Pretty Cinderella – Fred Rich and his Hotel Astor Orchestra / Unidentified, v.

Segment 5: Happy Birthday
Fred Rose was born August 24, 1897
Jesse Greer, was born August 26, 1896
Claude Hopkins was born August 24, 1903
Wendell Hall was born August 23, 1896

Doo Dah Blues – Lanin's Southern Serenaders (Fred Rose)
I Lost My Gal Again – Carolina Club Orchestra (Harry Reser) / Tom Stacks, v. (Jesse Greer)
Washington Squabble – Claude Hopkins AHO
Hot Feet – Paul Specht AHO (Wendell Hall)

THANKS FOR LISTENING!
If you enjoy the show, please let us know by leaving a comment on the website or the Facebook page or sending an email to Glenn@RapidlyRotatingRecords.com And remember, your requests and topic segments are always welcome.

RRR is also available as a podcast on iTunes, Spotify, Stitcher, TuneIn and Google Play Music. Simply enter Rapidly Rotating Records in the search box in any of those apps and a link to the show will appear. If you listen to the podcast, please subscribe and leave a rating and comment. THANK YOU!

We are proud and happy that Rapidly Rotating Records is also part of Global Community Radio, supplying campus and community radio stations worldwide with hosted music and spoken word programming from sources including public broadcasters, other community radio stations, and independent producers from around the globe.

The Rapidly Rotating Records telephone request line is now OPEN! In addition to sending cards or letters, sending email, or posting to the the show's website or Facebook page, you can now call in to request a particular artist, song or topic segment, leave feedback about the show, or ask questions or comment about the music. Of course, I'd be happy if you just call in to say "Hi!" and let me know you're out there listening. The easy-to-remember number is 234-PLAY 78s or 234-752-9787.

If you're a member of Facebook, but haven't "liked" the show, won't you please consider doing so? Just go to http://www.facebook.com/rapidlyrotatingrecords

And finally, please consider becoming a member of KISL. A basic membership is just $20 and a premium membership is $50. While most of you are not on Catalina Island and can't take advantage of the merchant discounts and offers that go with membership, you'll be supporting community radio on Catalina Island and beyond. I am not paid for the show, nor is it underwritten. I do the show because I love the music and the people, stories and culture behind it. Visit http://www.kislavalon.com/membership. Thanks!