Rapidly Rotating Records 78 RPM Show – 13 June 2010
Podcast: Play in new window | Download
Subscribe: Apple Podcasts | Android | Email | Google Podcasts | Stitcher | TuneIn | Spotify | RSS | More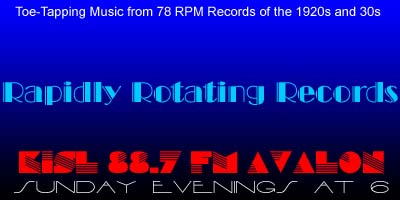 Welcome to Glenn Robison's Rapidly Rotating Records, bringing you vintage music to which you can't *not* tap your toes, from rapidly rotating 78 RPM records of the 1920s and '30s.
On this evening's show, we're gonna stop and go, go through a musical menu, hear about somebody else, and do some flopping.
Enjoy the show!
Here's the complete playlist:
Segment 1: Stop

Stop It – Billy Arnold's Novelty Band
Stop Your Kiddin' – Original Memphis Five
The Stop Trot – Al Starita and the Piccadilly Players / Eddie Grossbart, v.
Stop Pretending – Fats Waller and His Rhythm / Fats Waller, v.

Segment 2: Go

You Told Me To Go – Roger Wolfe Kahn / Franklyn Baur
Rarin' To Go – Boswell Sisters
Goin' About – Fats Waller Piano Solo
Show Me The Way To Go Home – California Ramblers / Billy Jones & unknown, v.

Segment 3: Al's Restaurant Menu
Last week, we heard Ben Bernie's monologue "My Pal Al", and Ben joked about Al's restaurant which had a menu made up of song titles. Well, here are some of those songs that Ben mentioned.

Muddy Water (Peter DeRose, Harry Richman, Jo Trent) – The Goofus Five / Ted Wallace (Ed Kirkeby), v.
Hot Lips – Specht's Society Serenaders
Pal of my Cradle Days – Paul Whiteman AHO / Lewis James, v.
There Must Be Somebody Else – Ben Bernie ah Hotel Roosevelt Orch / Scrappy Lambert & Billy Hillpot

Segment 4: Somebody Else

Somebody Else – Geo Olsen and His Music / Fran Frey, Bob Borger, Bob Rice, v.
When you're with somebody else – Bernie Cummins AHO / Bernie Cummins, v.
I'm Afraid You Sing That Song to Somebody Else – Garden Dancing Palace Orch / Bill Doric, v.
There Must Be Somebody Else – Ben Bernie ah Hotel Roosevelt Orch / Scrappy Lambert & Billy Hillpot

Segment 5: Flop

Flippity Flop – Harry Reser's Syncopators / Tom Stacks, v.
Flop Eared Mule – Charlie Poole and his Highlanders
Alligator Flop – King Oliver and His Creole Jazz Band

THANKS FOR LISTENING!
If you enjoy the show, please let us know by leaving a comment on the website or the Facebook page or sending an email to Glenn@RapidlyRotatingRecords.com And remember, your requests and topic segments are always welcome.

RRR is also available as a podcast on iTunes, Spotify, Stitcher, TuneIn and Google Play Music. Simply enter Rapidly Rotating Records in the search box in any of those apps and a link to the show will appear. If you listen to the podcast, please subscribe and leave a rating and comment. THANK YOU!

We are proud and happy that Rapidly Rotating Records is also part of Global Community Radio, supplying campus and community radio stations worldwide with hosted music and spoken word programming from sources including public broadcasters, other community radio stations, and independent producers from around the globe.

The Rapidly Rotating Records telephone request line is now OPEN! In addition to sending cards or letters, sending email, or posting to the the show's website or Facebook page, you can now call in to request a particular artist, song or topic segment, leave feedback about the show, or ask questions or comment about the music. Of course, I'd be happy if you just call in to say "Hi!" and let me know you're out there listening. The easy-to-remember number is 234-PLAY 78s or 234-752-9787.

If you're a member of Facebook, but haven't "liked" the show, won't you please consider doing so? Just go to http://www.facebook.com/rapidlyrotatingrecords

And finally, please consider becoming a member of KISL. A basic membership is just $20 and a premium membership is $50. While most of you are not on Catalina Island and can't take advantage of the merchant discounts and offers that go with membership, you'll be supporting community radio on Catalina Island and beyond. I am not paid for the show, nor is it underwritten. I do the show because I love the music and the people, stories and culture behind it. Visit http://www.kislavalon.com/membership. Thanks!