Rapidly Rotating Records 78 RPM Show – 18 April 2010
Podcast: Play in new window | Download
Subscribe: Apple Podcasts | Android | Email | Google Podcasts | Stitcher | TuneIn | Spotify | RSS | More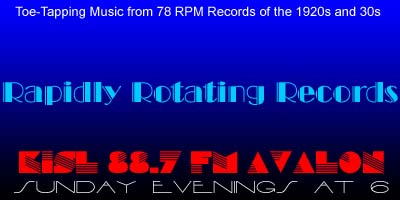 Welcome to Glenn Robison's Rapidly Rotating Records, bringing you vintage music to which you can't *not* tap your toes, from rapidly rotating 78 RPM records of the 1920s and '30s.
On this evening's show, we're gonna visit the graybar hotel, save face, and celebrate the birthdays of Lou Gold, Howard Phillips and Charles N. Daniels.
Enjoy the show!
Here's the complete playlist:
Segment 1: Charles N Daniels
April 12 marked the birth in 1878 in Leavenworth, Kansas of composer, lyricist and music publisher, Charles N. Daniels.

Chloe (Song Of The Swamp) – Sam Lanin AHO / Irving Kaufman, v.
She's Funny That Way – Ted Lewis
You Tell Me Your Dreams – B. A. Rolfe and His Lucky Strike Orchestra / Theo Alban, v.
Rose Of Monterey – Herman Kenin's Multnomah Hotel Orch / Van Fleming, v.
Segment 2: Prison

Sing Sing Prison Blues – Bessie Smith
Within The Prison Of My Dreams – Jesse Crawford, Organ, with Nat Shilkret and The Victor Orchestra
Don't Send My Boy To Prison – Jimmy Green AHO / Unidentified Male Vocal
Segment 3: Faces

Funny Face – Arden-Ohman / Johnny Marvin, v.
Two Faced Women – Hal Kemp AHO / Skinnay Ennis
Faces At The Window – Bert Firman and The Rhythmic Eight
Baby Face – Ben Selvin AHO / Ben Selvin, v.
Segment 4: Howard Phillips
April 12 marked the birth in 1909 of vocalist Howard Phillips.

We Belong Together – Leo Reisman AHO / Howard Phillips, v.
My Dancing Lady – Joe Venuti AHO / Howard Phillips, v.
An Old Flame Never Dies – Dick McDonough AHO / Howard Phillips, v.
Segment 5: Lou Gold
April 15 marked the birth in 1890 in Russia of Louis Milton Goldwasser, better known as Lou Gold.

Sad 'n' Blue – Virginia Creepers (Lou Gold) / Scrappy Lambert, v.
Humming To Myself – Lou Gold AHO
Here I Am Broken Hearted – Virginia Creepers (Lou Gold) / Jimmy Kern, v.

THANKS FOR LISTENING!
If you enjoy the show, please let us know by leaving a comment on the website or the Facebook page or sending an email to Glenn@RapidlyRotatingRecords.com And remember, your requests and topic segments are always welcome.

RRR is also available as a podcast on iTunes, Spotify, Stitcher, TuneIn and Google Play Music. Simply enter Rapidly Rotating Records in the search box in any of those apps and a link to the show will appear. If you listen to the podcast, please subscribe and leave a rating and comment. THANK YOU!

We are proud and happy that Rapidly Rotating Records is also part of Global Community Radio, supplying campus and community radio stations worldwide with hosted music and spoken word programming from sources including public broadcasters, other community radio stations, and independent producers from around the globe.

The Rapidly Rotating Records telephone request line is now OPEN! In addition to sending cards or letters, sending email, or posting to the the show's website or Facebook page, you can now call in to request a particular artist, song or topic segment, leave feedback about the show, or ask questions or comment about the music. Of course, I'd be happy if you just call in to say "Hi!" and let me know you're out there listening. The easy-to-remember number is 234-PLAY 78s or 234-752-9787.

If you're a member of Facebook, but haven't "liked" the show, won't you please consider doing so? Just go to http://www.facebook.com/rapidlyrotatingrecords

And finally, please consider becoming a member of KISL. A basic membership is just $20 and a premium membership is $50. While most of you are not on Catalina Island and can't take advantage of the merchant discounts and offers that go with membership, you'll be supporting community radio on Catalina Island and beyond. I am not paid for the show, nor is it underwritten. I do the show because I love the music and the people, stories and culture behind it. Visit http://www.kislavalon.com/membership. Thanks!