Rapidly Rotating Records 78 RPM Show – 14 March 2010
Podcast: Play in new window | Download
Subscribe: Apple Podcasts | Android | Email | Google Podcasts | Stitcher | TuneIn | Spotify | RSS | More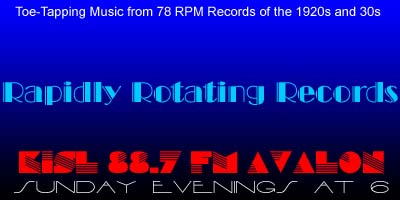 Welcome to Glenn Robison's Rapidly Rotating Records, bringing you vintage music to which you can't *not* tap your toes, from rapidly rotating 78 RPM records of the 1920s and '30s.
On this evening's show we're gonna go on some fun rides, and we'll celebrate the birthdays of Peter DeRose, Joseph Meyer, Ed Heyman and others.
Enjoy the show!
Here's the complete playlist:
Segment 1: Fun Ride
We have a very special listener, Marissa, who at 6 years old is already an aficionado of vintage music, thanks to my good friend Frank. Frank and his daughter together most weeks, and Marissa says the show feels like a "fun ride". An excellent description if ever I heard one! So that's the inspiration behind going riding on a rainbow, a buggy, a merry-go-round and a horse! And lest he thinks he was forgotten, I want to say "Hi!" to Marissa's big brother Derrick.

We'll All Go Riding On A Rainbow – Jay Wilbur and His Band / Sam Browne, v.
Thanks For The Buggy Ride – Harry Reser's Six Jumping Jacks / Tom Stacks, v.
When We Ride On The Merry-Go-Round – Chick Bullock
Since She Learned A Horse – Jack Kaufman and The Seven Blue Babies
Segment 2: Peter DeRose
March 10 marked the birth in 1900 in New York City of composer (and performer) Peter DeRose.

The Things That Were Made For Love – Paul Specht AHO / Johnny Morris, v.
Dixie Dawn – Dorsey Bros and Their Orchestra / Bill Dutton, v.
Marvellous – Bert Firman's Dance Orchestra / Sydney Nesbitt, v.
Segment 3: Joseph Meyer
March 12 marked the birth in Modesto, California in 1894 of composer Joseph Meyer.

Crazy Rhythm – Roger Wolfe Kahn AHO / Franklyn Baur, v.
It's An Old Southern Custom – Carroll Gibbons and His Boyfriends / Marjorie Stedeford & Boyfriends
If You Knew Susie – Jack Shilkret's Orch / Billy Murray, v.
Segment 4: Edward Heyman
March 14 marks the birth 103 years ago in 1907 in New York of lyricist Edward Heyman.

You Ought To Be In Pictures – Ray Noble AHO / Al Bowlly, v.
I Cover The Waterfront – Walter Feldkamp and His Manor Orchestra / Elmer Feldkamp, v.
Out Of Nowhere – Harry Reser's Radio Band / Frank Luther, v.
Segment 5: Happy Birthday
A number of others had birthdays this past week, but there isn't time for a whole segment on each, so we'll celebrate four more:
Ina Ray Hutton, born March 13, 1916, in Chicago, known as the "Blond Bombshell of Rhythm".
Ramona Davies was born March 11, 1909.
Bernie Cummins born March 14, 1900.
Leon "Bix" Beiderbecke, born March 10, 1903 in Davenport, Iowa.

And I Still Do – Ina Ray Hutton and Her Melodears / Ruth Bradley, v
Rise 'n' Shine – Paul Whiteman AHO / Ramona Davies, v.
Til We Meet – Bernie Cummins AHO / Bernie Cummins, Walter Cummins, v.
Flock O' Blues – Sioux City Six (Bix)

THANKS FOR LISTENING!
If you enjoy the show, please let us know by leaving a comment on the website or the Facebook page or sending an email to Glenn@RapidlyRotatingRecords.com And remember, your requests and topic segments are always welcome.

RRR is also available as a podcast on iTunes, Spotify, Stitcher, TuneIn and Google Play Music. Simply enter Rapidly Rotating Records in the search box in any of those apps and a link to the show will appear. If you listen to the podcast, please subscribe and leave a rating and comment. THANK YOU!

We are proud and happy that Rapidly Rotating Records is also part of Global Community Radio, supplying campus and community radio stations worldwide with hosted music and spoken word programming from sources including public broadcasters, other community radio stations, and independent producers from around the globe.

The Rapidly Rotating Records telephone request line is now OPEN! In addition to sending cards or letters, sending email, or posting to the the show's website or Facebook page, you can now call in to request a particular artist, song or topic segment, leave feedback about the show, or ask questions or comment about the music. Of course, I'd be happy if you just call in to say "Hi!" and let me know you're out there listening. The easy-to-remember number is 234-PLAY 78s or 234-752-9787.

If you're a member of Facebook, but haven't "liked" the show, won't you please consider doing so? Just go to http://www.facebook.com/rapidlyrotatingrecords

And finally, please consider becoming a member of KISL. A basic membership is just $20 and a premium membership is $50. While most of you are not on Catalina Island and can't take advantage of the merchant discounts and offers that go with membership, you'll be supporting community radio on Catalina Island and beyond. I am not paid for the show, nor is it underwritten. I do the show because I love the music and the people, stories and culture behind it. Visit http://www.kislavalon.com/membership. Thanks!