Rapidly Rotating Records 78 RPM Show – 27 December 2009
Podcast: Play in new window | Download
Subscribe: Apple Podcasts | Android | Email | Google Podcasts | Stitcher | TuneIn | Spotify | RSS | More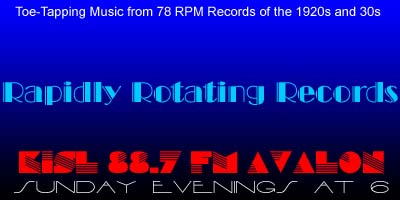 Welcome to Glenn Robison's Rapidly Rotating Records, bringing you vintage music to which you can't *not* tap your toes, from rapidly rotating 78 RPM records of the 1920s and '30s.
On this evening's show, we're gonna do some fighting, lurk in the shadows, get goosed, play a game, and have a sister act.
Enjoy the show!
Here's the complete playlist:
Segment 1: Fight

University of Michigan Fight Song – Golden Gate Orchestra
Fight For Santa Clara – Anson Weeks AHO / The Band, v.
Fight On (USC) – Harold Grayson's Campus Orchestra / Chorus, v.
Segment 2: Sisters

Bend Down, Sister – Roy Carroll & His Sands Point Orchestra (Ben Selvin) / Dick Robertson, v.
Oh! Sister, Ain't That Hot – Isabelle Patricola Acc. The Ambassadors
Swing It, Sister – Mills Brothers
Bless You, Sister – Coon-Sanders Orchestra / Carleton Coon
Segment 3: Shadows

Blue Shadows – Johnny Hamp's Kentucky Serenaders / Frank Masterson, v.
Chasing Shadows – Georgia Washboard Stompers / Jake Fenderson, v.
Sunshine and Shadows – Ray Noble and New Mayfair Dance Orch / Al Bowlly, v.
Segment 4: Goose
One of our family's Christmas traditions is to roast a nice Christmas goose. You wouldn't think there'd be a whole lot of vintage songs about geese, but here you are:

Goose Pimples – Bix Beiderbecke and His Gang
Loose Like A Goose – Benny Moten's Kansas City Orch
Goosey Goosey – Harry Roy AHO
Segment 5: Mah Jong

Mah-Jongg Blues – Atlantic Dance Orchestra
Since Ma Is Playing Mah-Jong – Original Memphis Five / Billy Jones

Segment 5: Happy New Year
This is the last Rapidly Rotating Records show of 2009, and I want to extend my best wishes to all for a safe, healthy, happy and extraordinarily prosperous 2010.

Auld Lang Syne – Frank C. Stanley

THANKS FOR LISTENING!
If you enjoy the show, please let us know by leaving a comment on the website or the Facebook page or sending an email to Glenn@RapidlyRotatingRecords.com And remember, your requests and topic segments are always welcome.

RRR is also available as a podcast on iTunes, Spotify, Stitcher, TuneIn and Google Play Music. Simply enter Rapidly Rotating Records in the search box in any of those apps and a link to the show will appear. If you listen to the podcast, please subscribe and leave a rating and comment. THANK YOU!

We are proud and happy that Rapidly Rotating Records is also part of Global Community Radio, supplying campus and community radio stations worldwide with hosted music and spoken word programming from sources including public broadcasters, other community radio stations, and independent producers from around the globe.

The Rapidly Rotating Records telephone request line is now OPEN! In addition to sending cards or letters, sending email, or posting to the the show's website or Facebook page, you can now call in to request a particular artist, song or topic segment, leave feedback about the show, or ask questions or comment about the music. Of course, I'd be happy if you just call in to say "Hi!" and let me know you're out there listening. The easy-to-remember number is 234-PLAY 78s or 234-752-9787.

If you're a member of Facebook, but haven't "liked" the show, won't you please consider doing so? Just go to http://www.facebook.com/rapidlyrotatingrecords

And finally, please consider becoming a member of KISL. A basic membership is just $20 and a premium membership is $50. While most of you are not on Catalina Island and can't take advantage of the merchant discounts and offers that go with membership, you'll be supporting community radio on Catalina Island and beyond. I am not paid for the show, nor is it underwritten. I do the show because I love the music and the people, stories and culture behind it. Visit http://www.kislavalon.com/membership. Thanks!