Rapidly Rotating Records 78 RPM Show – 6 December 2009
Podcast: Play in new window | Download
Subscribe: Apple Podcasts | Android | Email | Google Podcasts | Stitcher | TuneIn | Spotify | RSS | More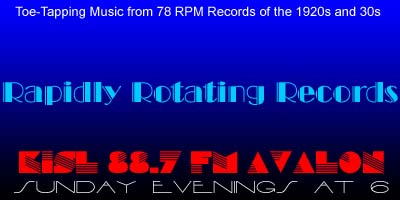 Welcome to Glenn Robison's Rapidly Rotating Records, bringing you vintage music to which you can't *not* tap your toes, from rapidly rotating 78 RPM records of the 1920s and '30s.
On this evening's show, we'll visit the Everglades, have some songs about a particular rodent, take a musical trip to Illinois, have some arboreal songs, and talk about the weather.
Enjoy the show!
Here's the complete playlist:
Segment 1: The Everglades
December 6 back in 1947, Everglades National Park in Florida was dedicated by President Harry S Truman, so lets take a musical trip to the Everglades.

Blues From The Everglades – Thomas Morris and His Seven Hot Babies
Hard To Get Gertie – Joe Candullo and His Everglades Orchestra / Joe Candullo, v.
Windy City Stomp – Joe Candullo & His Everglades Orch
Segment 2: Trees
December 6 marks the birth in 1886 of poet Joyce Alfred Kilmer, most famous for his poem "Trees". The poem has been set to music by a number of people, but the most recognizable tune is the one by Oscar Rasbach. In honor of Joyce Kilmer is a set of Rapidly Rotating Records about trees.

Trees – Earl Burtnett ah L A Biltmore Hotel Orch / Unknown, v.
Poplar Street Blues – Bernie Cummins AHO
Rose Tree Strut – Mickey Guy and His Rose Tree Café Orch
The Chestnut Tree – Oscar Rabin and His Romany Band / Billy Nichols & The Romaniacs, v.
Segment 3: Mickey Mouse
December 5 marked the birth in 1901 of Walt Disney, creator of Mickey Mouse, who made his debut on November 18, 1928 in "Steamboat Willie" at the Colony Theater in New York City. So here's a set of Mickey Mouse songs.

What, No Mickey Mouse? – Ben Bernie AHO / Ben Bernie & Orch., v.
Mickey Mouse and Minnie's In Town – Don Bestor AHO / The DeMarco Girls & Frank Sherry, v.
Mickey Mouse – Varsity Eight / Billy Murray & Orch., v.
Mickey Mouse's Birthday Party – Intl Novelty Orch
Segment 4: Illinois
Illinois was admitted to the union on December 3, 1818. The Prairie State's flower is the violet, and the state bird is the cardinal. So here to commemorate Illinois's statehood is a set of rapidly rotating records about Illinois.

Back Home in Illinois – Arcadian Serenaders / Morty Livingston, v.
When You Drop Off At Cairo, Illinois – Billy Murray
The Illinois Loyalty Song – Dan Russo Oriole Orch
Segment 5: Weather
December 3 marked the birth in 1838 of Cleveland Abbe, the first meteorologist with the U. S. Weather Bureau. We can't do anything about the weather, but we can play some songs about it.

Lazy Weather – California Ramblers / Arthur Fields, v.
Hurricane – Red & Miff's Stompers
Rainy Weather Rose – Adrian Schubert & His Salon Orch / Irving Kaufman, v.

THANKS FOR LISTENING!
If you enjoy the show, please let us know by leaving a comment on the website or the Facebook page or sending an email to Glenn@RapidlyRotatingRecords.com And remember, your requests and topic segments are always welcome.

RRR is also available as a podcast on iTunes, Spotify, Stitcher, TuneIn and Google Play Music. Simply enter Rapidly Rotating Records in the search box in any of those apps and a link to the show will appear. If you listen to the podcast, please subscribe and leave a rating and comment. THANK YOU!

We are proud and happy that Rapidly Rotating Records is also part of Global Community Radio, supplying campus and community radio stations worldwide with hosted music and spoken word programming from sources including public broadcasters, other community radio stations, and independent producers from around the globe.

The Rapidly Rotating Records telephone request line is now OPEN! In addition to sending cards or letters, sending email, or posting to the the show's website or Facebook page, you can now call in to request a particular artist, song or topic segment, leave feedback about the show, or ask questions or comment about the music. Of course, I'd be happy if you just call in to say "Hi!" and let me know you're out there listening. The easy-to-remember number is 234-PLAY 78s or 234-752-9787.

If you're a member of Facebook, but haven't "liked" the show, won't you please consider doing so? Just go to http://www.facebook.com/rapidlyrotatingrecords

And finally, please consider becoming a member of KISL. A basic membership is just $20 and a premium membership is $50. While most of you are not on Catalina Island and can't take advantage of the merchant discounts and offers that go with membership, you'll be supporting community radio on Catalina Island and beyond. I am not paid for the show, nor is it underwritten. I do the show because I love the music and the people, stories and culture behind it. Visit http://www.kislavalon.com/membership. Thanks!