Rapidly Rotating Records 78 RPM Show – 1 November 2009
Podcast: Play in new window | Download
Subscribe: Apple Podcasts | Android | Email | Google Podcasts | Stitcher | TuneIn | Spotify | RSS | More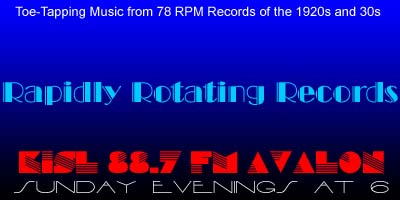 Welcome to Glenn Robison's Rapidly Rotating Records, bringing you vintage music to which you can't *not* tap your toes, from rapidly rotating 78 RPM records of the 1920s and '30s.
This evening's show features rapidly rotating records about ghosts, goblins, graveyards and ghouls. I'm pleased to report that all or very nearly all of the records on tonight's special Halloween show are being played on the show for the first time.
Enjoy the show!
Here's the complete playlist:
Segment 1: Haunted
I think the studio is haunted, as evidenced by this first set, beginning with The Columbians.

Dear Eyes That Haunt Me – The Columbians / Lewis James, v.
Haunting Blues – Broadway Dance Orchestra
That Haunting Waltz – Joseph M. Knecht
Haunting Me – Scott Fisher AHO/ Lee Johnson, v.
Haunting Humoreske – Sam Lanin AHO
(I'm Haunted By) That Swanee River song – Waring's Pennsylvanians
Segment 2: Ghostly
Nothing's more closely associated with Halloween than ghosts. Let's see, there's Casper, George and Marian Kirby, and these:

The Ghost Of The Rumba – Lud Gluskin ah Continental Orch / Unidentified, v.
The Ghost Of The Saxophone – Six Brown Brothers
The Ghost Of Piccolo Pete – Ted Weems AHO / Parker Gibbs, v.
(I Don't Stand) A Ghost Of A Chance – Ted FioRito AHO / Vera Van, v.
Segment 3: Goblins

Goblin Market – Joe Haymes AHO
The Goblin Band – Casa Loma Orchestra
Them's Graveyard Words – Bessie Smith
She's In The Graveyard Now – Earl McDonald's Original Louisville Jug Band

Segment 4: Boogie Men and Zombies

The Boogie Man Is Here – Tom Gerun AHO / Steve Bowers & Trio, v.
The Boogie Man – Todd Rollins and Chick Bullock
Zombie – Gene Kardos AHO
Abercrombie Had A Zombie – Fats Waller
Segment 5: Last mystery

You've Got Me Voodoo'd – Luis Russell AHO w/Louis Armstrong
Mysterious Mose – All-Star Radio Novelty Orchestra / Dick Robertson, v.

THANKS FOR LISTENING!
If you enjoy the show, please let us know by leaving a comment on the website or the Facebook page or sending an email to Glenn@RapidlyRotatingRecords.com And remember, your requests and topic segments are always welcome.

RRR is also available as a podcast on iTunes, Spotify, Stitcher, TuneIn and Google Play Music. Simply enter Rapidly Rotating Records in the search box in any of those apps and a link to the show will appear. If you listen to the podcast, please subscribe and leave a rating and comment. THANK YOU!

We are proud and happy that Rapidly Rotating Records is also part of Global Community Radio, supplying campus and community radio stations worldwide with hosted music and spoken word programming from sources including public broadcasters, other community radio stations, and independent producers from around the globe.

The Rapidly Rotating Records telephone request line is now OPEN! In addition to sending cards or letters, sending email, or posting to the the show's website or Facebook page, you can now call in to request a particular artist, song or topic segment, leave feedback about the show, or ask questions or comment about the music. Of course, I'd be happy if you just call in to say "Hi!" and let me know you're out there listening. The easy-to-remember number is 234-PLAY 78s or 234-752-9787.

If you're a member of Facebook, but haven't "liked" the show, won't you please consider doing so? Just go to http://www.facebook.com/rapidlyrotatingrecords

And finally, please consider becoming a member of KISL. A basic membership is just $20 and a premium membership is $50. While most of you are not on Catalina Island and can't take advantage of the merchant discounts and offers that go with membership, you'll be supporting community radio on Catalina Island and beyond. I am not paid for the show, nor is it underwritten. I do the show because I love the music and the people, stories and culture behind it. Visit http://www.kislavalon.com/membership. Thanks!