Rapidly Rotating Records 78 RPM Show – 23 August 2009
Podcast: Play in new window | Download
Subscribe: Apple Podcasts | Android | Email | Google Podcasts | Stitcher | TuneIn | Spotify | RSS | More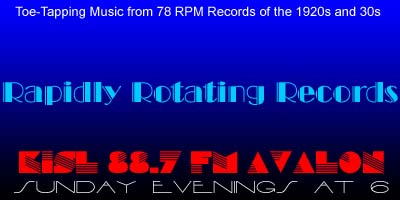 Welcome to Glenn Robison's Rapidly Rotating Records, bringing you vintage music to which you can't *not* tap your toes, from rapidly rotating 78 RPM records of the 1920s and '30s.
On this evening's show, we're gonna do some strolling, fulfill a request, hear from some Rose Maries, walk down the sunset trail, and be ashamed.
Enjoy the show!
Here's the complete playlist:
Segment 1: Strolling

Strollin' In The Moonlight With You – Nathan Glantz AHO / Unidentified, v.
Strolling In The Sunshine – Billy James AHO
Strolling In The Moonlight – Charles Kaley
Hallelujah – Cliquot Club Eskimos / Stroller's Quartet
Segment 2: Rose Marie

My Rose Marie – Benson Orch
Little Shepherd Of My Dreams – Guy Lombardo and His Royal Canadians / Rose Marie Lombardo, v.
Rose Marie – Broadway Dance Orch
Segment 3: Ashamed
Unashamedly the inspiration for this set came when looking through lists of song titles, I happened across "Ain't You Ashamed"…

Ain't You Ashamed – Arcadia Peacock Orchestra of St. Louis
You Ought to Be Ashamed – Bessie Smith
I'm So Ashamed – Russo and FioRito's Oriole Orchestra / Mark Fisher, v.
Segment 4: Bernie Cummins & Henry Busse
Listener Kay requested something by bandleaders Bernie Cummins and Henry Busse.

Out Of The Dawn – Bernie Cummins AHO / Bernie Cummins, Walter Cummins, v.
You Don't Know What You're Doin' – Henry Busse Orchestra / Knox Pugh & Chorus, v.
F'r Instance – Bernie Cummins AHO / Walter Cummins, v.
Beautiful – Henry Busse Orch / Richard Berry, v.
Segment 5: Sunset
At last week's Monday night Salon, listener Will and I were talking about the playlist for last week's show, when the subject of film "The Sunset Trail", which had versions in 1917 and 1924 came up. Will also mentioned a song titled "Down On The Sunset Trail". Unfortunately, if it was even recorded, I don't have that record. But, for Will and the rest of the Cactus County Cowboys, who have no doubt spent considerable time out on the sunset trail, are some other rapidly rotating records about the sunset trail, beginning with Billy Cotton and His Band

The Sunset Trail – Billy Cotton and His Band
Beside The Sunset Trail – Isham Jones AHO / Ralph Kirberry, v.
Moonlight On The Sunset Trail – Russ Morgan AHO / Russ Morgan, v.

THANKS FOR LISTENING!
If you enjoy the show, please let us know by leaving a comment on the website or the Facebook page or sending an email to Glenn@RapidlyRotatingRecords.com And remember, your requests and topic segments are always welcome.

RRR is also available as a podcast on iTunes, Spotify, Stitcher, TuneIn and Google Play Music. Simply enter Rapidly Rotating Records in the search box in any of those apps and a link to the show will appear. If you listen to the podcast, please subscribe and leave a rating and comment. THANK YOU!

We are proud and happy that Rapidly Rotating Records is also part of Global Community Radio, supplying campus and community radio stations worldwide with hosted music and spoken word programming from sources including public broadcasters, other community radio stations, and independent producers from around the globe.

The Rapidly Rotating Records telephone request line is now OPEN! In addition to sending cards or letters, sending email, or posting to the the show's website or Facebook page, you can now call in to request a particular artist, song or topic segment, leave feedback about the show, or ask questions or comment about the music. Of course, I'd be happy if you just call in to say "Hi!" and let me know you're out there listening. The easy-to-remember number is 234-PLAY 78s or 234-752-9787.

If you're a member of Facebook, but haven't "liked" the show, won't you please consider doing so? Just go to http://www.facebook.com/rapidlyrotatingrecords

And finally, please consider becoming a member of KISL. A basic membership is just $20 and a premium membership is $50. While most of you are not on Catalina Island and can't take advantage of the merchant discounts and offers that go with membership, you'll be supporting community radio on Catalina Island and beyond. I am not paid for the show, nor is it underwritten. I do the show because I love the music and the people, stories and culture behind it. Visit http://www.kislavalon.com/membership. Thanks!