Rapidly Rotating Records 78 RPM Show – 2 August 2009
Podcast: Play in new window | Download
Subscribe: Apple Podcasts | Android | Email | Google Podcasts | Stitcher | TuneIn | Spotify | RSS | More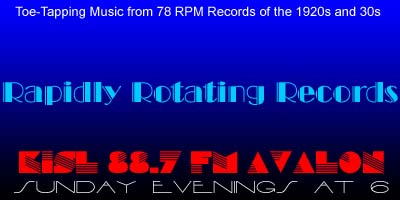 Welcome to Glenn Robison's Rapidly Rotating Records, bringing you vintage music to which you can't *not* tap your toes, from rapidly rotating 78 RPM records of the 1920s and '30s.
On this evening's show, we'll celebrate the birthdays of Roy Bargy, Billy Hillpot and Rudy Vallee, get into some wrecks, and listen to this past week in recording history.
Enjoy the show!
Here's the complete playlist:
Segment 1: Roy Bargy
July 31 marked the birth in 1894 in Newaygo, Michigan of pianist Roy Bargy.

Get Lucky – Isham Jones AHO / Isham Jones
Foolish Child – The Benson Orchestra of Chicago
Feedin the Kitty – Isham Jones AHO / Roy Bargy, piano
Segment 2: Wreck

Rambling Wreck from Georgia Tech – Goofus Five / Cyril Pitts, Tom Muir, Ed Kirkeby, v.
Wreck of the Southern Old 97 – Carl Fenton AHO / Billy Jones & Ernest Hare
Shipwreck Blues – Bessie Smith
The Freight Wreck at Altoona – Vernon Dalhart (as Al Craver)
Segment 3: Billy Hillpot
July 31 marked the birth in 1904 of vocalist William Arthur Hillpot, better known as "Billy" Hillpot.

There Must Be A Silver Lining – Vincent Lopez AHO / Scrappy Lambert & Billy Hillpot, v.
Following You Around – Ben Bernie AHO / Scrappy Lambert & Billy Hillpot, v.
How About It – Bob George and His Orchestra / Billy Hillpot (as Billy Hughes)
Segment 4: Rudy Vallee
July 28 marked the birth in 1901 in Island Point, Vermont, of Hubert Prior Vallee, better known as Rudy. The last couple of times we've done a segment on Rudy Vallee, we've had him singing, but here are some others, singing compositions Rudy Vallee had a hand in writing.

She Loves Me Just The Same – Hal Kemp AHO / Skinnay Ennis / Saxie Dowell, v.
I'm Just a Vagabond Lover – Al Goodman AHO / Unidentified Male Vocal
Two Little Blue Little Eyes – Chester Leighton and His Sophomores / Dick Robertson, v.
Segment 5: This Week In Recording History
Songs recorded this week many years ago.

Sailin' Along – Frank Banta, Piano (waxed August 2 in 1927)
Oh If I Only Had You – University Six (recorded August 2, 1926)
Come On Home – Clarence Williams / Eva Taylor (unissued Edison 78 waxed August 2, 1929)

THANKS FOR LISTENING!
If you enjoy the show, please let us know by leaving a comment on the website or the Facebook page or sending an email to Glenn@RapidlyRotatingRecords.com And remember, your requests and topic segments are always welcome.

RRR is also available as a podcast on iTunes, Spotify, Stitcher, TuneIn and Google Play Music. Simply enter Rapidly Rotating Records in the search box in any of those apps and a link to the show will appear. If you listen to the podcast, please subscribe and leave a rating and comment. THANK YOU!

We are proud and happy that Rapidly Rotating Records is also part of Global Community Radio, supplying campus and community radio stations worldwide with hosted music and spoken word programming from sources including public broadcasters, other community radio stations, and independent producers from around the globe.

The Rapidly Rotating Records telephone request line is now OPEN! In addition to sending cards or letters, sending email, or posting to the the show's website or Facebook page, you can now call in to request a particular artist, song or topic segment, leave feedback about the show, or ask questions or comment about the music. Of course, I'd be happy if you just call in to say "Hi!" and let me know you're out there listening. The easy-to-remember number is 234-PLAY 78s or 234-752-9787.

If you're a member of Facebook, but haven't "liked" the show, won't you please consider doing so? Just go to http://www.facebook.com/rapidlyrotatingrecords

And finally, please consider becoming a member of KISL. A basic membership is just $20 and a premium membership is $50. While most of you are not on Catalina Island and can't take advantage of the merchant discounts and offers that go with membership, you'll be supporting community radio on Catalina Island and beyond. I am not paid for the show, nor is it underwritten. I do the show because I love the music and the people, stories and culture behind it. Visit http://www.kislavalon.com/membership. Thanks!