Rapidly Rotating Records 78 RPM Show – 26 July 2009
Podcast: Play in new window | Download
Subscribe: Apple Podcasts | Android | Email | Google Podcasts | Stitcher | TuneIn | Spotify | RSS | More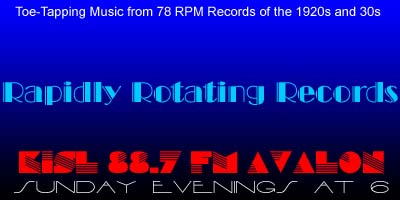 Welcome to Glenn Robison's Rapidly Rotating Records, bringing you vintage music to which you can't *not* tap your toes, from rapidly rotating 78 RPM records of the 1920s and '30s.
On this evening's show, we're going to celebrate the birthdays of Don Voorhees and Edwin J. McEnelly, rock the cradle, and try to keep from getting hurt.
Enjoy the show!
Here's the complete playlist:
Segment 1: Nine! 
First… we have a birthday to celebrate. Rapidly Recording Records is celebrating it's ninth year, having had its first broadcast on July 26, 2000. So here to get us started are some rapidly rotating records having to do with the number nine.

Nine Little Miles From Ten-Ten-Tennessee – Smith Ballew
Nine Pound Hammer – Frank Blevins and His Tar Heel Rattlers / Frank Blevins and Edd Blevins, v.
Wreck Of The Number Nine – Vernon Dalhart
Nine O'Clock Sal – Ted Weems AHO
Segment 2: Cradle

Cradle Of Love – Ray Miller and His Brunswick Orchestra / Bob Nolan, v.
Indian Cradle Song – Coon-Sanders
Sheltered By The Stars, Cradled By The Moon – Roger Wolfe Kahn AHO / Roger Wolfe Kahn / The Kahn-A-Sirs, v.
There's A Cradle In Caroline – Ben Bernie and His Hotel Roosevelt Orchestra / Vaughn deLeath, v.
Segment 3: Hurt

(You Knew You'd Hurt Someone) Why Did It Have To Be Me? – Dorsey Bros and their orch / Tony Sacco
My Feelings Are Hurt – Fats Waller (Piano)
The More You Hurt Me – Jimmie Greer AHO / Margaret Lawrence, v.
Segment 4: Edwin J. McEnelly
July 21 marked the birth in 1879 in Spencer, Massachusetts, of one of my favorite bandleaders, Edward James McEnelly, better known as Edwin J. McEnelly.

A Siren Dream – Edwin J. McNelly AHO / Elliott Shaw, v.
Raquel – EJMEAHO
What Are We Waiting For? – EJMEAHO / Johnny Marvin, v.
Segment 5: Don Voorhees
July 26 marked the birth in 1903 in Allentown, Pennsylvania of bandleader, composer and conductor Don Voorhees.

The Riff Song – Don Voorhees AH Earl Corroll Vanities Orch / Unidentified, v.
Rain – Don Voorhees AHO / Billy Day, v.
Never Without You – Don Voorhees AHO / Hal Yaets, v.

THANKS FOR LISTENING!
If you enjoy the show, please let us know by leaving a comment on the website or the Facebook page or sending an email to Glenn@RapidlyRotatingRecords.com And remember, your requests and topic segments are always welcome.

RRR is also available as a podcast on iTunes, Spotify, Stitcher, TuneIn and Google Play Music. Simply enter Rapidly Rotating Records in the search box in any of those apps and a link to the show will appear. If you listen to the podcast, please subscribe and leave a rating and comment. THANK YOU!

We are proud and happy that Rapidly Rotating Records is also part of Global Community Radio, supplying campus and community radio stations worldwide with hosted music and spoken word programming from sources including public broadcasters, other community radio stations, and independent producers from around the globe.

The Rapidly Rotating Records telephone request line is now OPEN! In addition to sending cards or letters, sending email, or posting to the the show's website or Facebook page, you can now call in to request a particular artist, song or topic segment, leave feedback about the show, or ask questions or comment about the music. Of course, I'd be happy if you just call in to say "Hi!" and let me know you're out there listening. The easy-to-remember number is 234-PLAY 78s or 234-752-9787.

If you're a member of Facebook, but haven't "liked" the show, won't you please consider doing so? Just go to http://www.facebook.com/rapidlyrotatingrecords

And finally, please consider becoming a member of KISL. A basic membership is just $20 and a premium membership is $50. While most of you are not on Catalina Island and can't take advantage of the merchant discounts and offers that go with membership, you'll be supporting community radio on Catalina Island and beyond. I am not paid for the show, nor is it underwritten. I do the show because I love the music and the people, stories and culture behind it. Visit http://www.kislavalon.com/membership. Thanks!