Rapidly Rotating Records 78 RPM Show – 2 November 2008
Podcast: Play in new window | Download
Subscribe: Apple Podcasts | Android | Email | Google Podcasts | Stitcher | TuneIn | Spotify | RSS | More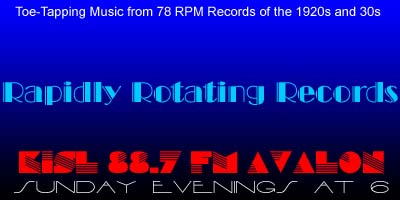 Welcome to Glenn Robison's Rapidly Rotating Records, bringing you vintage music to which you can't *not* tap your toes, from rapidly rotating 78 RPM records of the 1920s and '30s.
On this evening's show, we'll celebrate the birthday of Henry Thies, have some cowboy songs, song digital songs, some presidential songs, and listen to this past week in recording history.
Enjoy the show!
Here's the complete playlist:
Segment 1: Henry Thies
November 1 marked the birth in 1893 in Chicago of bandleader Henry Thies.

Dapper Dan – Thies' Detroit Ritz Orchestra
Angry – Henry Thies and His Castle Farm Orch
Sharing – Henry Theis AHO / Jane Froman, v.
Don't Wait Until The Lights Are Low – Henry Thies ah Hotel Sinton Orch. / Don Dewey/Howard Hafford, v.
Segment 2: Cowboys
On more than one occasion I've mentioned the Monday evening Salon, and one of the frequent participants in those gatherings is Will Ryan. Will and his Cactus County Cowboys have just released a new CD called "Rhythm Rides The Range", and I thought, "Hey, "Cowboys" would make a good segment for the show. So, here for Will Ryan and the Cactus County Cowboys are some rapidly rotating records about some vintage cowboys.

The Whistlin' Cowboy – Jan Garber AHO / Lee Bennett, v.
The Cowboy Song – Cliff Carlisle
When the cactus is in bloom – Jimmie Rodgers
Segment 3: Fingers
Last week I managed to fracture my ring finger while out playing, and just underwent a surgical procedure to have it put back together. The good news is that thanks to my orthopedic surgeon, it's gonna be just fine, and it gave me the suggestion for this segment of the show: rapidly rotating records about fingers.

Snap Your Fingers – Debroy Somers Band
Butterfingers – Don Bestor AHO / Neil Buckley
Slippery Fingers – Roy Smeck
Fractious Fingering – Fats Waller and His Rhythm
Segment 4: Presidential
You may have heard that we're having an election here in the US on Tuesday. So for our new president, whoever that turns out to be, here is a set of presidential songs.

Governor Al Smith For President – Carolina Night Hawks / Ted Bare, v.
II Don't Want To Be President – Little Jack Little
Wintergreen for President – Hal Kemp AHO
Segment 5: This Week in Recording History
It's here where we play rapidly rotating records celebrating birthdays, having been recorded this past week in years past.

Bouncin' Round – Bennie Moten's KC Orch (October 31, 1930)
That Wonderful Something – Nat Shilkret & Victor Orch (October 31, 1929)
An Evenin' In Caroline – Ted Lewis and His Band
What-Cha-Call-Em Blues – Palledo Orch of St. Louis

THANKS FOR LISTENING!
If you enjoy the show, please let us know by leaving a comment on the website or the Facebook page or sending an email to Glenn@RapidlyRotatingRecords.com And remember, your requests and topic segments are always welcome.

RRR is also available as a podcast on iTunes, Spotify, Stitcher, TuneIn and Google Play Music. Simply enter Rapidly Rotating Records in the search box in any of those apps and a link to the show will appear. If you listen to the podcast, please subscribe and leave a rating and comment. THANK YOU!

We are proud and happy that Rapidly Rotating Records is also part of Global Community Radio, supplying campus and community radio stations worldwide with hosted music and spoken word programming from sources including public broadcasters, other community radio stations, and independent producers from around the globe.

The Rapidly Rotating Records telephone request line is now OPEN! In addition to sending cards or letters, sending email, or posting to the the show's website or Facebook page, you can now call in to request a particular artist, song or topic segment, leave feedback about the show, or ask questions or comment about the music. Of course, I'd be happy if you just call in to say "Hi!" and let me know you're out there listening. The easy-to-remember number is 234-PLAY 78s or 234-752-9787.

If you're a member of Facebook, but haven't "liked" the show, won't you please consider doing so? Just go to http://www.facebook.com/rapidlyrotatingrecords

And finally, please consider becoming a member of KISL. A basic membership is just $20 and a premium membership is $50. While most of you are not on Catalina Island and can't take advantage of the merchant discounts and offers that go with membership, you'll be supporting community radio on Catalina Island and beyond. I am not paid for the show, nor is it underwritten. I do the show because I love the music and the people, stories and culture behind it. Visit http://www.kislavalon.com/membership. Thanks!