Rapidly Rotating Records 78 RPM Show – 12 October 2008
Podcast: Play in new window | Download
Subscribe: Apple Podcasts | Android | Email | Google Podcasts | Stitcher | TuneIn | Spotify | RSS | More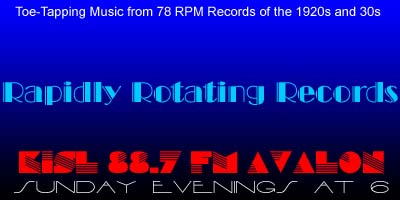 Welcome to Glenn Robison's Rapidly Rotating Records, bringing you vintage music to which you can't *not* tap your toes, from rapidly rotating 78 RPM records of the 1920s and '30s.
On this evening's show we'll fulfill some requests, almost fill some other requests, listen to this past week in recording history and play some records for no particular reason.
Enjoy the show!
Here's the complete playlist:
Segment 1: Holidays
I love getting requests, and most of the time, I'll have the song requested, although sometimes not by the artist requested. Well, such was the case this week. I got a request for "Every Day's A Holiday", and I have several versions of it, but not by the artist the listener requested.

Every Day's A holiday – Fats Waller
Holiday Sweetheart – Ruth Ettings
Holiday in Venice – Ted Weems AHO / Elmo Tanner & Orch., v.
A Jazz Holiday – Bennie Goodman's Boys w/Jim and Glenn
Segment 2: Merry-Go-Round
Another request this week was for "Love Is A Merry-Go-Round", but again, I had the song, but not the version that was requested – however, it will spawn this set of merry-go-round songs:

When We Ride On The Merry-Go-Round – Chick Bullock
Love Is A Merry-Go-Round – Bunny Berigan AHO / Sue Mitchell, v.
Merry-Go-Round Broke Down – Russ Morgan AHO / Jimmie Lewis, v.
Segment 3: Getting it Right
For this segment of the show, I'm happy to say that I had the exact records requested this week by listeners Dan and Maurice.

I Can't Believe That You're In Love With Me – Roger Wolfe Kahn AHO
Maybe It's Love – Kate Smith
I'll Never Ask For More – Geo Olsen / Bob Borger, v.
Segment 4: No Particular Reason
We don't always have a theme, sometimes it's just a bunch of songs we like.

Four O'Clock Blues – Ted Claire Snappy Bits Band
How Could Red Riding Hood – Charleston Serenaders / Al Lentz, v.
Those Wanna Go Back Again Blues – Dave Caplan's Toronto Band
Segment 5: This Week in Recording History
Songs that were recorded this week – in years gone past.

Parkway Stomp – Albert Wynn and His Gut Bucket Five / Punch Miller, v (October 9, 1928)
Jo-Anne – Edwin J. McEnelly's Orchestra / Elliot Shaw, v. (October 8, 1928)
Rail roadin' Some – Henry Thomas "Ragtime Texas" (October 7, 1929)
Together, We Two – Fred Rich and His Hotel Astor Orchestra / Irving Kaufamn as Frank Harris, v. (October 11, 1927)

THANKS FOR LISTENING!
If you enjoy the show, please let us know by leaving a comment on the website or the Facebook page or sending an email to Glenn@RapidlyRotatingRecords.com And remember, your requests and topic segments are always welcome.

RRR is also available as a podcast on iTunes, Spotify, Stitcher, TuneIn and Google Play Music. Simply enter Rapidly Rotating Records in the search box in any of those apps and a link to the show will appear. If you listen to the podcast, please subscribe and leave a rating and comment. THANK YOU!

We are proud and happy that Rapidly Rotating Records is also part of Global Community Radio, supplying campus and community radio stations worldwide with hosted music and spoken word programming from sources including public broadcasters, other community radio stations, and independent producers from around the globe.

The Rapidly Rotating Records telephone request line is now OPEN! In addition to sending cards or letters, sending email, or posting to the the show's website or Facebook page, you can now call in to request a particular artist, song or topic segment, leave feedback about the show, or ask questions or comment about the music. Of course, I'd be happy if you just call in to say "Hi!" and let me know you're out there listening. The easy-to-remember number is 234-PLAY 78s or 234-752-9787.

If you're a member of Facebook, but haven't "liked" the show, won't you please consider doing so? Just go to http://www.facebook.com/rapidlyrotatingrecords

And finally, please consider becoming a member of KISL. A basic membership is just $20 and a premium membership is $50. While most of you are not on Catalina Island and can't take advantage of the merchant discounts and offers that go with membership, you'll be supporting community radio on Catalina Island and beyond. I am not paid for the show, nor is it underwritten. I do the show because I love the music and the people, stories and culture behind it. Visit http://www.kislavalon.com/membership. Thanks!