Rapidly Rotating Records 78 RPM Show – 27 July 2008
Podcast: Play in new window | Download
Subscribe: Apple Podcasts | Android | Email | Google Podcasts | Stitcher | TuneIn | Spotify | RSS | More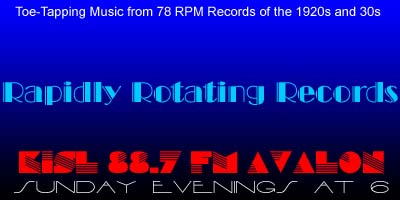 Welcome to Glenn Robison's Rapidly Rotating Records, bringing you vintage music to which you can't *not* tap your toes, from rapidly rotating 78 RPM records of the 1920s and '30s.
On this evening's show we'll celebrate the birthdays of Edwin J. McEnelly and Don Voorhees, fulfill a request, and play "eight" songs.

Actually we'll play more than eight songs, but we'll have two segments of songs having to do with the number "eight", because this is our eighth anniversary show. Rapidly Rotating Records debuted on KISL on July 23, 2000, and we've been here ever since.
Enjoy the show!
Here's the complete playlist:
Segment 1: Bands of Eight
The first several anniversary shows were easy to program: there are lots of songs with one, two three or four in the title. There aren't quite so many having to do with "eight", so here's bands with eight in their name.

Savoy Shout – Luis Russell and His Burning Eight
Astoria Strut – Jones and Collins Astoria Hot Eight
Come On, Baby – The Rhythmic Eight
Pretty Audrey – Louis Dumaine's Jazzola Eight
Segment 2: Eight
Continuing this special eighth anniversary edition of Rapidly Rotating Records.

Cheatin' On Me – Varsity Eight
This Little Piggy Went To Market (from "Eight Girls In A Boat" – Coslow & Harold Lewis) – Annette Hanshaw
A Day Without You (from "Eight Girls In A Boat") – Ed Loyd AHO / Vocal Trio
Dinner at Eight – Ray Noble AHO / Al Bowlly, v
Segment 3: Edwin J. McEnelly
July 21 marked the birth in 1879 in Spencer, Massachusetts, of one of my favorite bandleaders, Edward James McEnelly, better known as Edwin J. McEnelly.

Sleep, Baby, Sleep – Edwin J. McEnelly's Orchestra / Elliott Shaw, v.
In The Middle Of The Night – Edwin J. McEnelly's Orchestra
Just Cross The River From Queens – Edwin J. McEnelly's Orchestra / Frederick L. Wade, v.
Segment 4: Don Voorhees
July 26 marked the birth in 1903 in Allentown, Pennsylvania of bandleader, composer and conductor Don Voorhees.

That's My Hap-Hap-Happiness – Don Voorhees AHO
Oh, Doris, Where Do You Live? – Don Voorhees AHO / Arthur Fields, v.
Clementine – Don Voorhees AHO / Irving Kaufman, v.
Segment 5: Different Collections
As much as I'd wish it, not every record you hear on this program is the actual original 78 from my very own collection. Happily, for the final segment of this eighth anniversary edition of Rapidly Rotating Records I have a record courtesy of my friend Edgar Bullington, who many of you know as the curator of Bathwater Music.

Stars – Bar Harbor Society Orch (as The Harmonians) / Frank Bessinger, v.
Me and Jane In A Plane – Debroy Somers Band
Hot Aire – Perry's Hot Dogs

THANKS FOR LISTENING!
If you enjoy the show, please let us know by leaving a comment on the website or the Facebook page or sending an email to Glenn@RapidlyRotatingRecords.com And remember, your requests and topic segments are always welcome.

RRR is also available as a podcast on iTunes, Spotify, Stitcher, TuneIn and Google Play Music. Simply enter Rapidly Rotating Records in the search box in any of those apps and a link to the show will appear. If you listen to the podcast, please subscribe and leave a rating and comment. THANK YOU!

We are proud and happy that Rapidly Rotating Records is also part of Global Community Radio, supplying campus and community radio stations worldwide with hosted music and spoken word programming from sources including public broadcasters, other community radio stations, and independent producers from around the globe.

The Rapidly Rotating Records telephone request line is now OPEN! In addition to sending cards or letters, sending email, or posting to the the show's website or Facebook page, you can now call in to request a particular artist, song or topic segment, leave feedback about the show, or ask questions or comment about the music. Of course, I'd be happy if you just call in to say "Hi!" and let me know you're out there listening. The easy-to-remember number is 234-PLAY 78s or 234-752-9787.

If you're a member of Facebook, but haven't "liked" the show, won't you please consider doing so? Just go to http://www.facebook.com/rapidlyrotatingrecords

And finally, please consider becoming a member of KISL. A basic membership is just $20 and a premium membership is $50. While most of you are not on Catalina Island and can't take advantage of the merchant discounts and offers that go with membership, you'll be supporting community radio on Catalina Island and beyond. I am not paid for the show, nor is it underwritten. I do the show because I love the music and the people, stories and culture behind it. Visit http://www.kislavalon.com/membership. Thanks!