Rapidly Rotating Records 78 RPM Show – 20 July 2008
Podcast: Play in new window | Download
Subscribe: Apple Podcasts | Android | Email | Google Podcasts | Stitcher | TuneIn | Spotify | RSS | More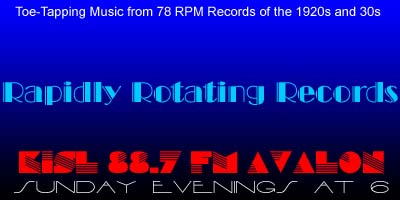 Welcome to Glenn Robison's Rapidly Rotating Records, bringing you vintage music to which you can't *not* tap your toes, from rapidly rotating 78 RPM records of the 1920s and '30s.
On this evening's show, we'll have some pancakes, celebrate the birthdays of Ted Koehler, Al Piantadosi and Billy Hill,
Enjoy the show!
Here's the complete playlist:
Segment 1: Ted Koehler
July 14 marked the birth in 1894 in Washington, D. C. of lyricist Ted Koehler.

Between The Devil And The Deep Blue Sea – Chick Bullock
Truckin' – Joe Haymes AHO / Cliff Weston, v.
Spreadin' Rhythm Around – Fats Waller and His Rhythm / Fats Waller, v.
Segment 2: Alfred Piantadosi
July 18 marked the birth in 1884 in New York City of composer and pianist Alfred Piantadosi.

I Didn't Raise My Boy To Be A Soldier – Peerless Quartet
My Stormy Weather Pal – Johnny Johnson AH Statler Pennsylvanians / Scrappy Lambert, v.
The Curse Of An Aching Heart – Fats Waller and His Rhythm / Fats Waller
Segment 3: Auntie
There's a bit of a story behind how this segment was put together – and it all happened after listener James in Iowa sent an email to let me know that Archeophone Records had just released a 2 CD set. He went on to tell me a rather interesting tale that involved an Edith Wilson appearance… but you're just going to have to press play to hear the full connection.

I'll Get Even With You – Edith Wilson
Aunt Jemima Stomp – Kansas City Tin Roof Stompers
Aunt Jemima's Jubilee – Premiere Quartet
Segment 4: Billy Hill
July 14 marked the birth in 1899 in Boston, Massachusetts of writer William Joseph Hill, better known as "Billy Hill".

All Ashore – Lew Stone and His Band / Al Bowlly, v.
The Last Roundup – Don Bestor AHO / Neil Buckley, v.
The Clouds Will Soon Roll By – Leo Reisman AHO / Charles Carlisle, v.
Segment 5: For No Particular Reason
This is the theme-less segment – unless you consider that all the songs being played have nothing in common a theme?

The Camel Walk – Art Landry AHO
Me and Mr. Sunshine – Arthur Lally AHO / Sam Browne, v.
Say To Yourself "I Will Be Happy" – Nat Star Band / Les Allen, v.
Crazy Chords – Jelly Roll Morton AH Red Hot Pepper

THANKS FOR LISTENING!
If you enjoy the show, please let us know by leaving a comment on the website or the Facebook page or sending an email to Glenn@RapidlyRotatingRecords.com And remember, your requests and topic segments are always welcome.

RRR is also available as a podcast on iTunes, Spotify, Stitcher, TuneIn and Google Play Music. Simply enter Rapidly Rotating Records in the search box in any of those apps and a link to the show will appear. If you listen to the podcast, please subscribe and leave a rating and comment. THANK YOU!

We are proud and happy that Rapidly Rotating Records is also part of Global Community Radio, supplying campus and community radio stations worldwide with hosted music and spoken word programming from sources including public broadcasters, other community radio stations, and independent producers from around the globe.

The Rapidly Rotating Records telephone request line is now OPEN! In addition to sending cards or letters, sending email, or posting to the the show's website or Facebook page, you can now call in to request a particular artist, song or topic segment, leave feedback about the show, or ask questions or comment about the music. Of course, I'd be happy if you just call in to say "Hi!" and let me know you're out there listening. The easy-to-remember number is 234-PLAY 78s or 234-752-9787.

If you're a member of Facebook, but haven't "liked" the show, won't you please consider doing so? Just go to http://www.facebook.com/rapidlyrotatingrecords

And finally, please consider becoming a member of KISL. A basic membership is just $20 and a premium membership is $50. While most of you are not on Catalina Island and can't take advantage of the merchant discounts and offers that go with membership, you'll be supporting community radio on Catalina Island and beyond. I am not paid for the show, nor is it underwritten. I do the show because I love the music and the people, stories and culture behind it. Visit http://www.kislavalon.com/membership. Thanks!