Rapidly Rotating Records 78 RPM Show – 30 December 2007
Podcast: Play in new window | Download
Subscribe: Apple Podcasts | Android | Email | Google Podcasts | Stitcher | TuneIn | Spotify | RSS | More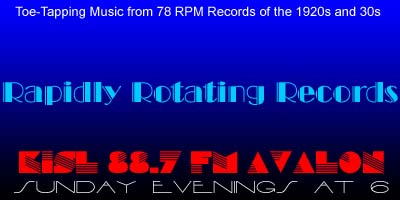 Welcome to Glenn Robison's Rapidly Rotating Records, bringing you vintage music to which you can't *not* tap your toes, from rapidly rotating 78 RPM records of the 1920s and '30s.
Around this time of the year, a number of composers, songwriters and bandleaders sometimes don't get featured so that we can present vintage Christmas music on our special Christmas show. Because of that, and at the suggestion of listener Rich, this evening, we'll make up for some of that by celebrating the birthdays of Oscar Levant, Kid Ory, Ted FioRito, Nat Shilkret and Cab Calloway.
Enjoy the show!
Here's the complete playlist:
Segment 1: Oscar Levant
Composer Oscar Levant was born in into a musical family in Pittsburgh, Pennsylvania on December 27, 1906.

Keep Sweeping the Cobwebs Off The Moon – Earl Randolph's Orchestra (Sam Lanin) / Scrappy Lambert, v.
If You Want The Rainbow (You Must Have The Rain) – Annette Hanshaw and Her Novelty Orch. / Annette Hanshaw, v.
Lovable and Sweet – Rhythmic Eight / Maurice Elwin, v.
Segment 2: Kid Ory
Edward Ory, better known as "Kid" Ory, born on Christmas Day in 1886. He was a trombone player, and developed the "tailgate" style, where the trombone plays a rhythmic line under the trumpets and cornets.

Ory's Creole Trombone – Louis Armstrong's Hot Five
Society Blues – Ory's Sunshine Orchestra (Spikes Seven Pods Of Pepper Orchestra)
Muskrat Ramble – Louis Armstrong's Hot Five
Segment 3: Nat Shilkret
Christmas Day marked the birth in 1889 in Queens, New York of Nathaniel Shilkret.

Nothin' – Nat Shilkret and His Orchestra / Gene Austin, v.
You Can't Take Away Things That Were Made For Love – Nat Shilkret and The Victor Orchestra
But There's Everything Nice About You – Nat Shilkret and The Victor Orchestra
Segment 4: Ted FioRito
December 20 marked the birth in 1900 in Newark, New Jersey, of Ted FioRito.

Hangin' on the Garden Gate – Ted Fiorito's Orchestra / The Mariners, v.
A Smile Will Go A Long Long Way – Dan Russo / Ted FioRito's Oriole Orchestra
Nothing Else To Do But Sit Around – Russo-Fiorito Oriole Orchestra
Segment 5: Cab Calloway
Also born on Christmas Day, but in 1907 in Rochester, New York, was vocalist, drummer and bandleader Cabell Calloway, better known as "Cab" Calloway.

Jitterbug – Cab Calloway and His Cotton Club Orchestra
You Dog – Cab Calloway AHO
The Scat Song – Cab Calloway AHO

Segment 5: Happy New Year
With best wishes for a safe, healthy, happy and extraordinarily prosperous New Year, I thank you for your very kind attention and I'll see you next year.

Auld Lang Syne – Frank C. Stanley

THANKS FOR LISTENING!
This, of course, is the last Rapidly Rotating Records show of 2007. I want to thank you all for listening, and for your requests and expressions of thanks and support through your e-mail. I really do appreciate the feedback, so if you have a request for a particular song or artist, a suggestion for a topic, or just wanna say Hi, you can send e-mail to Glenn@RapidlyRotatingRecords.com. Of course, you can also send cards or letters to P. O. Box 145, Claremont, CA 91711. I'm looking forward to bringing you more 78 RPM records of the 1920s and 30s and music to which you can't not tap your toes in 2008.

RRR is also available as a podcast on iTunes, Spotify, Stitcher, TuneIn and Google Play Music. Simply enter Rapidly Rotating Records in the search box in any of those apps and a link to the show will appear. If you listen to the podcast, please subscribe and leave a rating and comment. THANK YOU!

We are proud and happy that Rapidly Rotating Records is also part of Global Community Radio, supplying campus and community radio stations worldwide with hosted music and spoken word programming from sources including public broadcasters, other community radio stations, and independent producers from around the globe.

The Rapidly Rotating Records telephone request line is now OPEN! In addition to sending cards or letters, sending email, or posting to the the show's website or Facebook page, you can now call in to request a particular artist, song or topic segment, leave feedback about the show, or ask questions or comment about the music. Of course, I'd be happy if you just call in to say "Hi!" and let me know you're out there listening. The easy-to-remember number is 234-PLAY 78s or 234-752-9787.

If you're a member of Facebook, but haven't "liked" the show, won't you please consider doing so? Just go to http://www.facebook.com/rapidlyrotatingrecords

And finally, please consider becoming a member of KISL. A basic membership is just $20 and a premium membership is $50. While most of you are not on Catalina Island and can't take advantage of the merchant discounts and offers that go with membership, you'll be supporting community radio on Catalina Island and beyond. I am not paid for the show, nor is it underwritten. I do the show because I love the music and the people, stories and culture behind it. Visit http://www.kislavalon.com/membership. Thanks!