Rapidly Rotating Records 78 RPM Show – 23 December 2007
Podcast: Play in new window | Download
Subscribe: Apple Podcasts | Android | Email | Google Podcasts | Stitcher | TuneIn | Spotify | RSS | More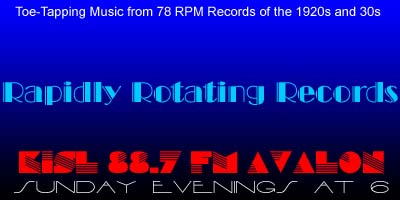 Welcome to Glenn Robison's Rapidly Rotating Records, bringing you vintage music to which you can't *not* tap your toes, from rapidly rotating 78 RPM records of the 1920s and '30s.
This evening's show is starting out a little differently. This being our Christmas show, I've got a Christmas present for you: I'm going to shut up and just play a whole show of vintage Christmas records, with no commentary, no Ids, no promos, and no announcements.
Those of you who subscribe to the weekly e-mail playlist already know what's coming up. But if you don't receive the playlist, and would like to, you can sign up on the website at www.RapidlyRotatingRecords.com. If you would like to know about a particular record on this evening's show, or if you have a request for a particular song or artist for an upcoming show, you can e-mail me at Glenn@RapidlyRotatingRecords.com
Enjoy the show!
Here's the complete playlist:
Segment 1: Jingle Bells
Sit back and relax with a nice hot cider and enjoy the next hour of vintage music with my best wishes for a very Merry Christmas.

Swingin' Them Jingle Bells – "Fats" Waller and His Rhythm
Santa Claus Tells About His Toy Shop – Gilbert Girard
Dancing Snowflakes – Jack Grose and His Metropole Players
Segment 2: Winter Wonderland

Winter Wonderland – Richard Himber ah Ritz Carlton Hotel Orch / Joey Nash, v.
Christ Eve – Miro's Band, Walter N. Rogers, Dir.
On A Christmas Tree – Jack Grose and His Metropole Players
Segment 3: Santa Claus

I Told Santa Claus To Bring Me You – Bernie Cummins AHO / Walter Cummins, v.
Santa Claus Gives Away His Toys – Gilbert Girard
Parade of the Wooden Soldiers – Intl. Novelty Orchestra
Segment 4: Christmas Party

Santa Claus is Coming to Town – Harry Reser AHO/ Tom Stacks, v.
Santa Claus at the Christmas Party – Gloria Geer & Company
At the Christmas Ball – Bessie Smith
Segment 5: Toys

March of the Toys – Victor Young
The Spirit of Christmas – Gloria Geer & Company
Jingle Bells – Riley-Farley and Their Orchestra

Segment 6: What I want for Christmas

Santa Claus Express – BBC Dance Orch., Dir. Henry Hall
I Want You For Christmas – Dick Robertson

Segment 7: Singing Angels

Hark! The Herald Angels Sing – Shannon Quartet
Silent Night – Felix Arndt

Wishing you and yours a very happy holiday season, and a safe, healthy, happy and extraordinarily prosperous New Year.

THANKS FOR LISTENING!
If you enjoy the show, please let us know by leaving a comment on the website or the Facebook page or sending an email to Glenn@RapidlyRotatingRecords.com And remember, your requests and topic segments are always welcome.

RRR is also available as a podcast on iTunes, Spotify, Stitcher, TuneIn and Google Play Music. Simply enter Rapidly Rotating Records in the search box in any of those apps and a link to the show will appear. If you listen to the podcast, please subscribe and leave a rating and comment. THANK YOU!

We are proud and happy that Rapidly Rotating Records is also part of Global Community Radio, supplying campus and community radio stations worldwide with hosted music and spoken word programming from sources including public broadcasters, other community radio stations, and independent producers from around the globe.

The Rapidly Rotating Records telephone request line is now OPEN! In addition to sending cards or letters, sending email, or posting to the the show's website or Facebook page, you can now call in to request a particular artist, song or topic segment, leave feedback about the show, or ask questions or comment about the music. Of course, I'd be happy if you just call in to say "Hi!" and let me know you're out there listening. The easy-to-remember number is 234-PLAY 78s or 234-752-9787.

If you're a member of Facebook, but haven't "liked" the show, won't you please consider doing so? Just go to http://www.facebook.com/rapidlyrotatingrecords

And finally, please consider becoming a member of KISL. A basic membership is just $20 and a premium membership is $50. While most of you are not on Catalina Island and can't take advantage of the merchant discounts and offers that go with membership, you'll be supporting community radio on Catalina Island and beyond. I am not paid for the show, nor is it underwritten. I do the show because I love the music and the people, stories and culture behind it. Visit http://www.kislavalon.com/membership. Thanks!