Rapidly Rotating Records 78 RPM Show – 16 December 2007
Podcast: Play in new window | Download
Subscribe: Apple Podcasts | Android | Email | Google Podcasts | Stitcher | TuneIn | Spotify | RSS | More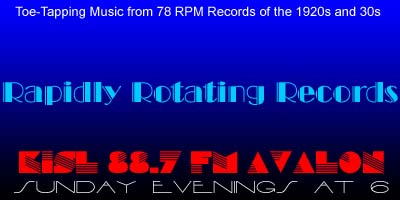 Welcome to Glenn Robison's Rapidly Rotating Records, bringing you vintage music to which you can't *not* tap your toes, from rapidly rotating 78 RPM records of the 1920s and '30s.
On this evening's show we'll celebrate the birthdays of Harold Adamson, Lud Gluskin and Lew Brown, have a vocabulary lesson and listen to this past week in recording history.
Enjoy the show!
Here's the complete playlist:
Segment 1: Mendicant
The word for today is mendicant, which can simply mean a beggar. So here's a set of rapidly rotating records about mendicants.

Rich Man, Poor Man, Beggar Man, Their – Boyd Senter and His Senterpedes
I'd Rather Be A Beggar With You – Ray Noble / Al Bowlly
Beggar's Blues – Sonny Greer and His Memphis Men/ Okeh Ellington
Segment 2: Harold Adamson
December 10 marked the birth in 1906 in Greenville, New Jersey, of lyricist Harold Adamson.

Everything I Have Is Yours – Gene Austin
This Never Happened Before – Don Bestor AHO/Neil Buckley, v.
Everything's Been Done Before – Guy Lombardo ah Royal Canadians / Carmen Lombardo, v.
Segment 3: Lud Gluskin
December 16 marks the birth in 1896 in New York City of Ludwig Elias Gluskin, beter known as"Lud" Gluskin.

Oh! Monah – Lud Gluskin et son orchestre / Freddy Johnson, v.
Sunny Skies – Lud Gluskin and His Versatile Juniors / John Thorne, v.
I Want To Go Places And Do Things – Lud Gluskin AHO
Segment 4: Lew Brown
December 10 marked the birth in 1893 in Odessa Russian of composer Lew Brown, born Louis Brownstein.

What Could Be Sweeter Than You – Red Sanders AHO / James Teele, v.
One Sweet Letter From You – Ethel Waters
Last Night On The back Porch – The Savoy Havana Band Dir. By Debroy Somers / Ramon Newton, v.
Segment 5: This Week in Recording History

Along Came Sweetness – Golden Gate Orch. (December 14, 1928)
Imagination – Bennie Moten's KC Orch (December 13, 1932)
Oh! Mabel – Ben Selvin AHO (December 11, 1924)
Sweet Thing – Fletcher Henderson AHO (December 13, 1926)

THANKS FOR LISTENING!
If you enjoy the show, please let us know by leaving a comment on the website or the Facebook page or sending an email to Glenn@RapidlyRotatingRecords.com And remember, your requests and topic segments are always welcome.

RRR is also available as a podcast on iTunes, Spotify, Stitcher, TuneIn and Google Play Music. Simply enter Rapidly Rotating Records in the search box in any of those apps and a link to the show will appear. If you listen to the podcast, please subscribe and leave a rating and comment. THANK YOU!

We are proud and happy that Rapidly Rotating Records is also part of Global Community Radio, supplying campus and community radio stations worldwide with hosted music and spoken word programming from sources including public broadcasters, other community radio stations, and independent producers from around the globe.

The Rapidly Rotating Records telephone request line is now OPEN! In addition to sending cards or letters, sending email, or posting to the the show's website or Facebook page, you can now call in to request a particular artist, song or topic segment, leave feedback about the show, or ask questions or comment about the music. Of course, I'd be happy if you just call in to say "Hi!" and let me know you're out there listening. The easy-to-remember number is 234-PLAY 78s or 234-752-9787.

If you're a member of Facebook, but haven't "liked" the show, won't you please consider doing so? Just go to http://www.facebook.com/rapidlyrotatingrecords

And finally, please consider becoming a member of KISL. A basic membership is just $20 and a premium membership is $50. While most of you are not on Catalina Island and can't take advantage of the merchant discounts and offers that go with membership, you'll be supporting community radio on Catalina Island and beyond. I am not paid for the show, nor is it underwritten. I do the show because I love the music and the people, stories and culture behind it. Visit http://www.kislavalon.com/membership. Thanks!