Rapidly Rotating Records 78 RPM Show – 27 May 2007
Podcast: Play in new window | Download
Subscribe: Apple Podcasts | Android | Email | Google Podcasts | Stitcher | TuneIn | Spotify | RSS | More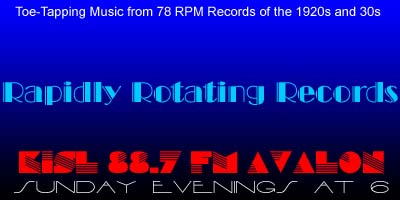 Welcome to Glenn Robison's Rapidly Rotating Records, bringing you vintage music to which you can't *not* tap your toes, from rapidly rotating 78 RPM records of the 1920s and '30s.
On this evening's show we'll play some "nola" songs, fulfill a request, celebrate a birthday and play some more "nola" songs.
Enjoy the show!
Here's the complete playlist:
Segment 1: Nola
What are "nola" songs, I hear you cry? Well, you'll recall that last week I played the Revelers rendition of Felix Arndt's composition "Nola" as part of a set celebrating his birthday. Now I've been accused in the past of using gimmicks to come up with playlistson this show, and that's OK. So how's this for a gimmick. As I was looking through the various recordings of Felix Arndt's "Nola", I came across a number of songs whose titles ended with "nola", kind of like a suffix.

Pompanola – Broadway Nitelites (Selvin)
Saxonola – Clyde Doerr
The Londonola – Billy Merrin and His Commanders / Ken Crossley, v.
Seminola – The Original Indiana Five
Segment 2: More Nola
Well, we just heard Pompanola, Saxonola, Londonola and Seminola. How many more "nola" songs can there be? Well, at least 3.

Rubenola – Rudy Weidoeft
The Cubanola Glide – Billy Murray
Indianola – Wilbur Sweatman's Original Jazz Band
Segment 3: Fats Waller
May 21 marked the birth in 1904 in Waverly, New York of Thomas Wright Waller, better known as "Fats".

Do Me A Favor – Fats Waller and his Rhythm
After You've Gone – Fats Waller / Bennie Paine
Don't Let It Bother You – Fats Waller and his Rhythm
Segment 4: Al Jolson
May 26 marked the birth in 1886 in Lithuania of Asa Yoelson, better known as Al Jolson. Actually that may or may not have been the real day or even the real year of his birth. It's not known exactly when Jolson was born, but he chose May 26 as his birthday simply because he liked the idea of being born in the spring.

Blue River – William F. Wirges AHO (w/Harry Reser)
Back To The Carolina You Love – Al Jolson
One Sweet Kiss – Al Jolson
Segment 5: Requests
Listener Alvin sent an email last week with three requests, and I'm pleased to be able to play all three.

Now's The Time (To Fall In Love) – Gene Kardos AHO / Dick Robertson, v.
Happy Rhythm – The Musical Stevedores
Collegiate Fanny – Kaye Kyser AHO

THANKS FOR LISTENING!
If you enjoy the show, please let us know by leaving a comment on the website or the Facebook page or sending an email to Glenn@RapidlyRotatingRecords.com And remember, your requests and topic segments are always welcome.

RRR is also available as a podcast on iTunes, Spotify, Stitcher, TuneIn and Google Play Music. Simply enter Rapidly Rotating Records in the search box in any of those apps and a link to the show will appear. If you listen to the podcast, please subscribe and leave a rating and comment. THANK YOU!

We are proud and happy that Rapidly Rotating Records is also part of Global Community Radio, supplying campus and community radio stations worldwide with hosted music and spoken word programming from sources including public broadcasters, other community radio stations, and independent producers from around the globe.

The Rapidly Rotating Records telephone request line is now OPEN! In addition to sending cards or letters, sending email, or posting to the the show's website or Facebook page, you can now call in to request a particular artist, song or topic segment, leave feedback about the show, or ask questions or comment about the music. Of course, I'd be happy if you just call in to say "Hi!" and let me know you're out there listening. The easy-to-remember number is 234-PLAY 78s or 234-752-9787.

If you're a member of Facebook, but haven't "liked" the show, won't you please consider doing so? Just go to http://www.facebook.com/rapidlyrotatingrecords

And finally, please consider becoming a member of KISL. A basic membership is just $20 and a premium membership is $50. While most of you are not on Catalina Island and can't take advantage of the merchant discounts and offers that go with membership, you'll be supporting community radio on Catalina Island and beyond. I am not paid for the show, nor is it underwritten. I do the show because I love the music and the people, stories and culture behind it. Visit http://www.kislavalon.com/membership. Thanks!