Rapidly Rotating Records 78 RPM Show – 11 September 2005
Podcast: Play in new window | Download
Subscribe: Apple Podcasts | Android | Email | Google Podcasts | Stitcher | TuneIn | Spotify | RSS | More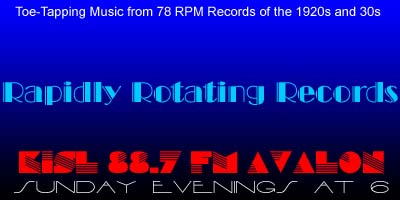 Welcome to Glenn Robison's Rapidly Rotating Records, bringing you vintage music to which you can't *not* tap your toes, from rapidly rotating 78 RPM records of the 1920s and '30s.
On this evening's show we'll celebrate the birthdays of Billy Rose, Gus Arnheim, Charles Kuralt and Arthur Freed, and listen to this past week in recording history.
Enjoy the show!
Here's the complete playlist:
Segment 1: Billy Rose
September 6 marked the birth in 1899 on New York's lower East Side, of William Samuel Rosenberg. You may know him better as lyricist, producer, and nightclub and theater owner Billy Rose.

Overnight – Jack Payne and His BBC Dance Orch / Val Rosing
Don't Be a Fool, You Fool – Whispering Jack Smith
The Girl I Left Behind Me – Fats Waller and His Rhythm / Fats Waller
Segment 2: Gus Arnheim
September 11 marked the birth in 1897 in Phildelphia, Pennsylvania of Gus Arnheim.

Back in Your Own Back Yard – Gus Arnheim AHO / Russ Columbo
Sweet and Lovely – Gus Arnheim AHO / Donald Novis
It Might Have Been You – Gus Arnheim AHO / Meri Bell
Segment 3: Roads
September 10 marked the birth in 1934 in Wilmington, North Carolina of Charles Kuralt. In 1967 he began his series "On the Road", producing more than 500 segments and logging more than a million miles, so to commemorate Charles Kuralt, here's a set of rapidly rotating records about roads.

I Travel the Road – Ray Noble New Mayfair / Peter Dawson, v.
The Lonesome Road – Ted Lewis AHB / Ted Lewis and The Four Dusty Travelers
Rocky Road – McKinney's Cotton Pickers / Don Redman
Dusty Road – Nat Shilkret / Nelson Eddy
Segment 4: Arthur Freed
September 9 marked the birth in 1894 of songwriter and producer Arthur Freed.

Here Comes the Sun – Bert Lown and His Biltmore Hotel Orchestra / The Biltmore Rhythm Boys
Fit as a Fiddle – Fred Waring ah Penns / Frank Zullo & Quartet
You Were Meant for Me – Nat Shilkret Victor/Scrappy Lambert, v.
Segment 5: This Week in Recording History

A New Kind of Man – Varsity Eight (September 10, 1924)
Deep Down South – Bix AHO / Wes Vaughn, v. (September 8, 1930)
Sweet Jennie Lee – Isham Jones AHO (September 10, 1930)
Hot Water Blues – Bennie Moten's Kansas City Orch / Bennie Moten, v. (September 7, 1928)

Segment 6: America
Today is the fourth anniversary of September 11, and so I'm going to close with a record from 1916.

Close with America – Clarence Whitehill

THANKS FOR LISTENING!
If you enjoy the show, please let us know by leaving a comment on the website or the Facebook page or sending an email to Glenn@RapidlyRotatingRecords.com And remember, your requests and topic segments are always welcome.

RRR is also available as a podcast on iTunes, Spotify, Stitcher, TuneIn and Google Play Music. Simply enter Rapidly Rotating Records in the search box in any of those apps and a link to the show will appear. If you listen to the podcast, please subscribe and leave a rating and comment. THANK YOU!

We are proud and happy that Rapidly Rotating Records is also part of Global Community Radio, supplying campus and community radio stations worldwide with hosted music and spoken word programming from sources including public broadcasters, other community radio stations, and independent producers from around the globe.

The Rapidly Rotating Records telephone request line is now OPEN! In addition to sending cards or letters, sending email, or posting to the the show's website or Facebook page, you can now call in to request a particular artist, song or topic segment, leave feedback about the show, or ask questions or comment about the music. Of course, I'd be happy if you just call in to say "Hi!" and let me know you're out there listening. The easy-to-remember number is 234-PLAY 78s or 234-752-9787.

If you're a member of Facebook, but haven't "liked" the show, won't you please consider doing so? Just go to http://www.facebook.com/rapidlyrotatingrecords

And finally, please consider becoming a member of KISL. A basic membership is just $20 and a premium membership is $50. While most of you are not on Catalina Island and can't take advantage of the merchant discounts and offers that go with membership, you'll be supporting community radio on Catalina Island and beyond. I am not paid for the show, nor is it underwritten. I do the show because I love the music and the people, stories and culture behind it. Visit http://www.kislavalon.com/membership. Thanks!