Rapidly Rotating Records 78 RPM Show – 17 July 2005
Podcast: Play in new window | Download
Subscribe: Apple Podcasts | Android | Email | Google Podcasts | Stitcher | TuneIn | Spotify | RSS | More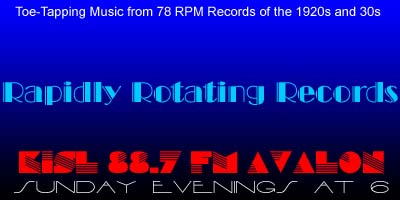 Welcome to Glenn Robison's Rapidly Rotating Records, bringing you vintage music to which you can't *not* tap your toes, from rapidly rotating 78 RPM records of the 1920s and '30s.
We're going to go to some lengths on this evening's show and we'll celebrate Ted Koehler's birthday, go to the beach, dream some dreams, and listen to this past week in recording history.
Enjoy the show!
Here's the complete playlist:
Segment 1: Ted Koehler
July 14 marked the birth in 1894 in Washington, D. C. of lyricist Ted Koehler.

Truckin' – Fats Waller AH Rhythm /Fats Waller, v.
I Like That – Frankie Trumbauer AHO
Stormy Weather – Ted Lewis And His Band
Ill Wind – Art Taum, Piano
Segment 2: Dreams
July 16 in 1934, the musical drama "Dreams Come True" debuted on the NBC Red Radio Network. So here to commemorate "Dreams Come True", are some rapidly rotating records about dreams.

Out of My Dreams – Fred Elizalde and His Cinderella Roof Orch
A Japanese Dream – The Whoopee Makers (Cr. Dixie Daisies) /Claude Reese, v.
A Siren Dream – Edwin J. McEnelly's Orch / Elliot Shaw
Segment 3: Beach
This past week was spent on vacation at the annual stay at Hermosa beach. So here's a set of rapidly rotating records about the beach.

Riptide – Ruth Etting
On the Beach at Bali Bali – Billy Merrin ah Commanders /Ken Crossley
On the beach with You – Chester Leighton ah Sophomores (Ben Selvin)
Segment 4: Measurement
July 14 in 1868, Mr Fellows was issued a patent for his improvement of the tape measure by adding a spring click would hold the tape at any desired position. So, I've gone to great lengths to assemble the following set of rapidly rotating records having to do with measurement.

Is It Gonna Be Long – Vaughn DeLeath
It Won't Be Long – Bennie Moten's Kansas City Orchestra
How Long Blues – Count Basie (Piano)
Segment 5: This Week in Recording History

Little White Lies – Cliquot Club Eskimos (July 16, 1930)
So Beats My Heart for You – Fred Waring & Penn/Stuart Churchill (July 17, 1930)
Pardon Me, Pretty Baby – The Rhythmic Eight (July 13, 1931)
Indiana Stomp – The Original Indiana Five (July 14, 1925)

THANKS FOR LISTENING!
If you enjoy the show, please let us know by leaving a comment on the website or the Facebook page or sending an email to Glenn@RapidlyRotatingRecords.com And remember, your requests and topic segments are always welcome.

RRR is also available as a podcast on iTunes, Spotify, Stitcher, TuneIn and Google Play Music. Simply enter Rapidly Rotating Records in the search box in any of those apps and a link to the show will appear. If you listen to the podcast, please subscribe and leave a rating and comment. THANK YOU!

We are proud and happy that Rapidly Rotating Records is also part of Global Community Radio, supplying campus and community radio stations worldwide with hosted music and spoken word programming from sources including public broadcasters, other community radio stations, and independent producers from around the globe.

The Rapidly Rotating Records telephone request line is now OPEN! In addition to sending cards or letters, sending email, or posting to the the show's website or Facebook page, you can now call in to request a particular artist, song or topic segment, leave feedback about the show, or ask questions or comment about the music. Of course, I'd be happy if you just call in to say "Hi!" and let me know you're out there listening. The easy-to-remember number is 234-PLAY 78s or 234-752-9787.

If you're a member of Facebook, but haven't "liked" the show, won't you please consider doing so? Just go to http://www.facebook.com/rapidlyrotatingrecords

And finally, please consider becoming a member of KISL. A basic membership is just $20 and a premium membership is $50. While most of you are not on Catalina Island and can't take advantage of the merchant discounts and offers that go with membership, you'll be supporting community radio on Catalina Island and beyond. I am not paid for the show, nor is it underwritten. I do the show because I love the music and the people, stories and culture behind it. Visit http://www.kislavalon.com/membership. Thanks!