Rapidly Rotating Records 78 RPM Show – 20 June 2004
Podcast: Play in new window | Download
Subscribe: Apple Podcasts | Android | Email | Google Podcasts | Stitcher | TuneIn | Spotify | RSS | More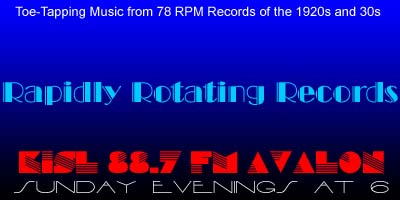 Welcome to Glenn Robison's Rapidly Rotating Records, bringing you vintage music to which you can't *not* tap your toes, from rapidly rotating 78 RPM records of the 1920s and '30s.
On this evening's show, we're going to celebrate Father's Day, and the birthdays of Cliff Edwards, Sammy Fain, and Guy Lombardo.
Enjoy the show!
Here's the complete playlist:
Segment 1: Father's Day Today is Father's Day, and so we're going to begin and end the show with some songs about fathers, beginning with some advice.

Papa Better Watch Your Step – Lad's Black Aces / Mandy Lee, v.
Papa, De Da Da – St. Louis Rhythm Kings – Original Indiana Five
Old Grand Dad – Fats Waller and His Rhythm
Segment 2: Guy Lombardo
June 19 marked the birth in 1902 in London, Ontario, Canada of violinist and bandleader Gaetano Lombardo, better known as Guy. Here's Guy Lombardo and His Royal Canadians, but "on the air" rather than from commercial records, these are radio transcriptions from broadcasts from 1935 and 36.

Program Opening
Isn't Love the Grandest ThingI
Wanna Make Love
Moonlight and Roses
Program Closing
Segment 3: Cliff Edwards
June 14 marked the birth in 1895 of Cliff Edwards.

That's My Weakness Now – Cliff Edwards
Orange Blossom Time – Cliff Edwards
It Goes Like This (That Funny Melody) – Cliff Edwards
Segment 4: Sammy Fain
June 17 marked the birth in 1902 of Samuel Feinberg. You may know him better as Sammy Fain, but if not, you certainly know his songs. For over 40 years, the Oscar-winning musician and composer wrote for stage and screen.

Croonin' a Tune – Original Indiana Five
There's a Place in the Sun for You – Herman Kenin's Multnomah Hotel Orch/Ken Allen
Wedding Bells (Are Breaking Up That Old Gang of Mine) – Bob Haring AHO

Segment 5: Papa
A few more rapidly rotating records for this Father's Day.

I'm a Dong Dong Daddy from Dumas – Ben Pollack AHO/Ben Pollack, v.
Loud Speakin' Papa – The Charleston Chasers
Mama's Gone Young – Papa's Gone Old – Ed Lowry

Segment 6: Daddy
And we have time for one more.

You'll Never Find a Daddy Like Me – Nelstone's Hawaiians

THANKS FOR LISTENING!
If you enjoy the show, please let us know by leaving a comment on the website or the Facebook page or sending an email to Glenn@RapidlyRotatingRecords.com And remember, your requests and topic segments are always welcome.

RRR is also available as a podcast on iTunes, Spotify, Stitcher, TuneIn and Google Play Music. Simply enter Rapidly Rotating Records in the search box in any of those apps and a link to the show will appear. If you listen to the podcast, please subscribe and leave a rating and comment. THANK YOU!

We are proud and happy that Rapidly Rotating Records is also part of Global Community Radio, supplying campus and community radio stations worldwide with hosted music and spoken word programming from sources including public broadcasters, other community radio stations, and independent producers from around the globe.

The Rapidly Rotating Records telephone request line is now OPEN! In addition to sending cards or letters, sending email, or posting to the the show's website or Facebook page, you can now call in to request a particular artist, song or topic segment, leave feedback about the show, or ask questions or comment about the music. Of course, I'd be happy if you just call in to say "Hi!" and let me know you're out there listening. The easy-to-remember number is 234-PLAY 78s or 234-752-9787.

If you're a member of Facebook, but haven't "liked" the show, won't you please consider doing so? Just go to http://www.facebook.com/rapidlyrotatingrecords

And finally, please consider becoming a member of KISL. A basic membership is just $20 and a premium membership is $50. While most of you are not on Catalina Island and can't take advantage of the merchant discounts and offers that go with membership, you'll be supporting community radio on Catalina Island and beyond. I am not paid for the show, nor is it underwritten. I do the show because I love the music and the people, stories and culture behind it. Visit http://www.kislavalon.com/membership. Thanks!