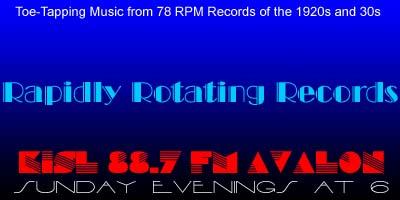 Welcome to the High Tech Hobo website, home of Glenn Robison and my weekly, hour-long radio program of 1920s and 30s pop and jazz, "Rapidly Rotating Records". We play 78 RPM records of "toe-tapping" music from hot dance bands, as well as sweet bands, novelty tunes, soundtracks, blues, jazz and more.
Since July of 2000, the show has been broadcast over KISL-FM 88.7 in Avalon on beautiful Santa Catalina Island, California each Sunday evening at 6 PM. KISL broadcasts 24/7 and can be heard streaming online at www.KISLAvalon.com. The show is also available streaming online, "on demand" 24/7 right here, as well as a free podcast on iTunes.
I hope you'll take a look around, give a listen to the show, and leave a comment. Your requests for a particular artist, composer or record are always welcome, as are your suggestions for segment topics. The current show, recent shows, and archived shows are just a click away via the links to the right, and the show will stream immediately without need for an external media player. Thanks!